Mocha Milk Cake / Easy Chocolate kalakand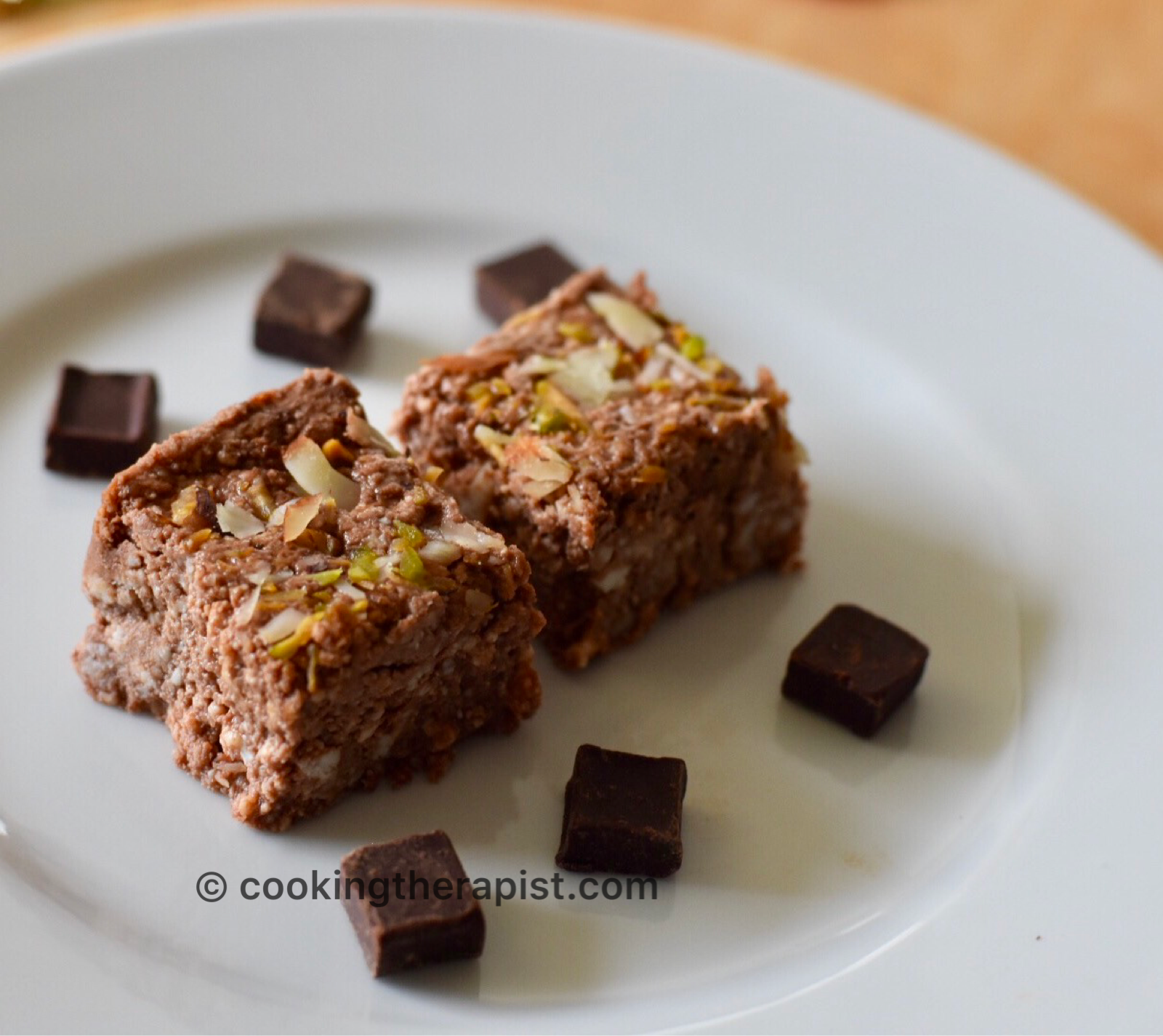 When festival is around the corner we would love to have feast, Mocha milk cake is super easy recipe with modern food trend twist. For making this dish you need just four ingredients like Paneer (Chhena, Mawa, Ricotta cheese), condensed milk, chocolate (cocoa powder) and coffee.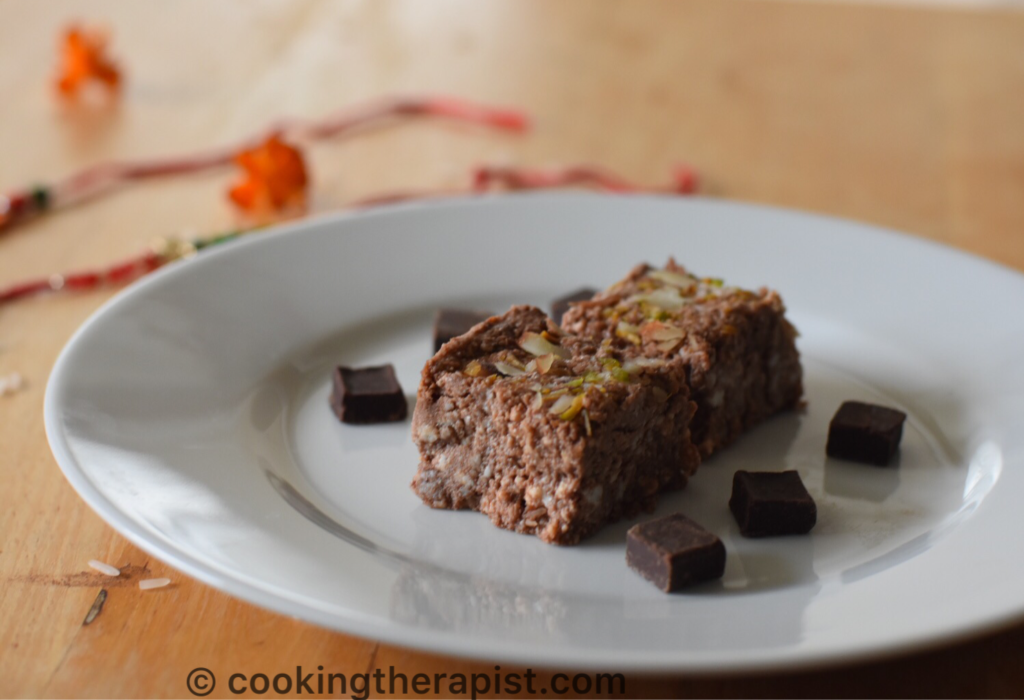 I am having irresistible love with chocolates but trying to control my sweet tooth with raisins and figs. My daughter burns lots of her calories by just standing, moving and running around. She is so busy in playing that she does not want to hold her milk bottle and finish it, so I thought of making some sweet for her.
Paneer contains good amount of calciums and protein that's what our growing kiddo needs to fulfill their daily requirement. Chocolates are usually kids favorite, so in my opinion it is good to make cake made up of milk (paneer) for your kids rather than flour (maida) cake.
You can make it a day before of any festival or celebration and store it in refrigerator in airtight container. If you are making it for fasting  then use homemade paneer and cocoa powder.
Finally I got chance to take the picture before it disappears.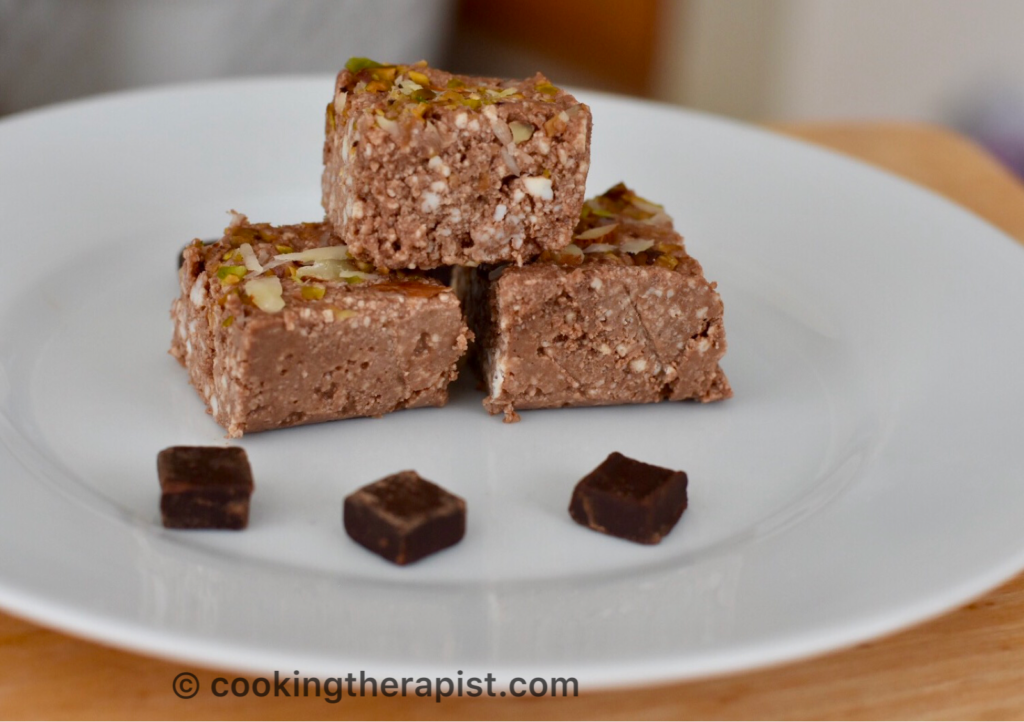 Mocha Milk Cake or Chocolate kalakand
Easy flourless cake made up of paneer (cottage cheese) and condensed milk with chocolate and hint of coffee.
Ingredients
Paneer - 2 cup (~ 300 gms)
Condensed milk ½ cup to 1 cup (100 -150 gms according to your taste)
Chocolate ~1/2 cup
Instant coffee 1 teaspoon (change according to your taste)
Almond / Chocolate decoration (optional)
Instructions
Heat the pan and then add fine crumble paneer and condensed milk to the non-stick pan with a tablespoon of milk powder.
Add instant coffee to the tablespoon of hot milk and mix it.
Keep the gas flame medium to low and mix everything well.
Stir it continuously and add 1 tablespoon of ghee (clarified butter) into it (optional).
Stir it till it forms a soft dough consistency or it stops sticking.
Switch off the flame and add chocolate and stir it.
Transfer it to greased container.
Garnish with your favorite nuts or chocolate vermicelli.
Let it set for 2 hrs. and cut it into the shapes you want.
Notes
You can use chocolate or cocoa powder according to availability.
Skip coffee if you are making it for kids, pregnant women or lactating women.
Don't forget to check my
weight watchers sizzling brownie here
.
We prefer mild sweet taste you can add condensed milk according to your taste.
You can skip coffee if you are making it for kids.
Enjoy!!  And let me know your feedback.
Related
---