Cheerios Bhel Puri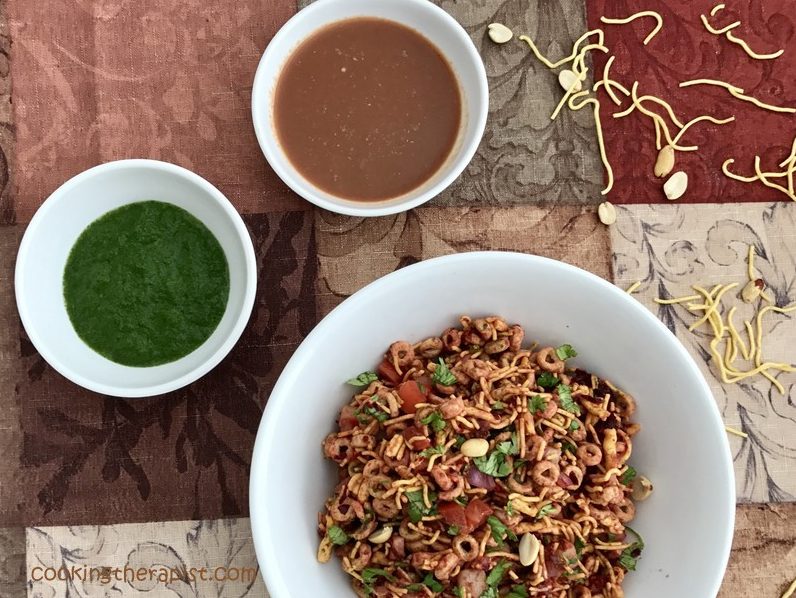 Cheerios, that's the bowl of my breakfast that's what you are thinking about right? I have made healthy, yummy and quick snacking option out of it.see how?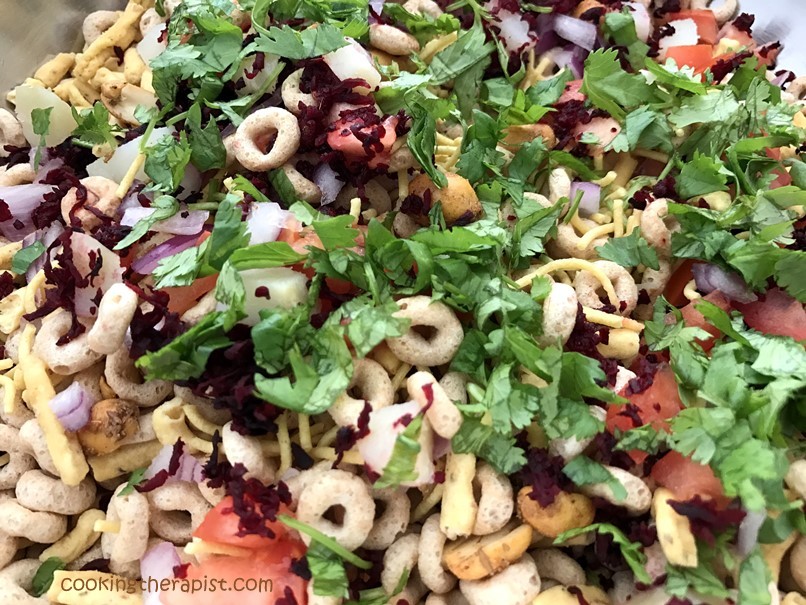 Bhel is a savory and light crunchy snack, and is also a type of chaat famous from streets of Mumbai,India. It is made out of puffed rice, vegetables and a tangy tamarind sauce.you can have it dry or with chutneys(sauces).
My husband and I were having talk something about Cheerios and got idea that let's make healthy version of bhel out of it. Bhel is made out of puffed rice and we have converted puffed rice into Cheerios. Cheerios Bhel Puri is very easy to make, tummy filler and nutritious because of the oat contain of it. If you want to see the benefits of oats check here.
This recipe is perfect for snacking or even for light lunch or dinner.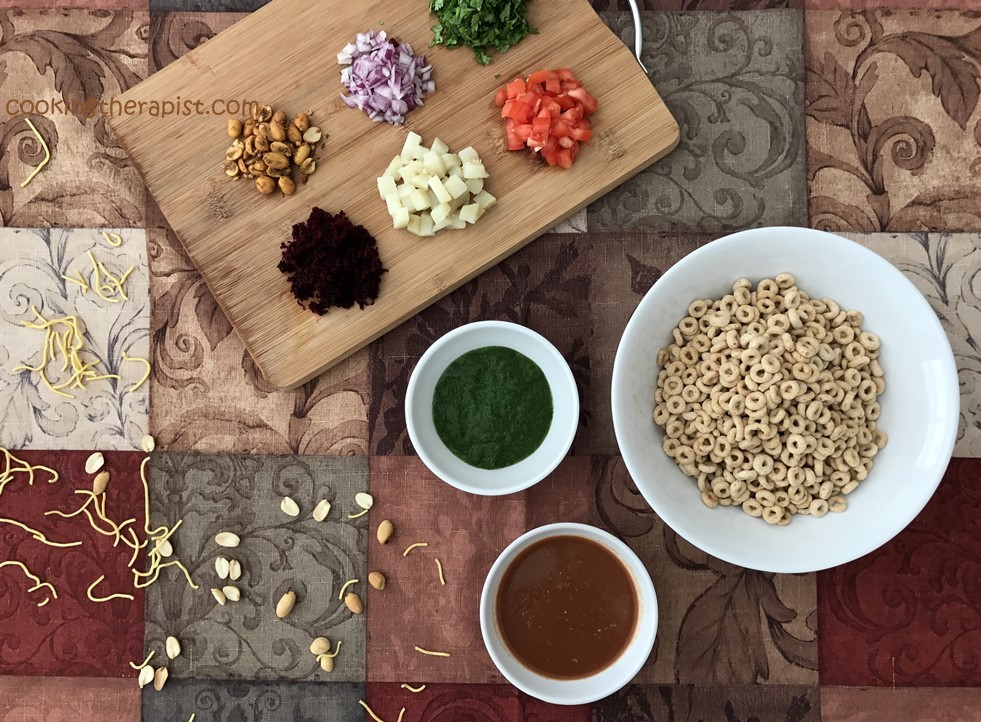 Cheerios Bhel
Inspired by popular Indian street food Bhel Puri. Crispy cheerios with some chopped vegetable and crunchy peanuts, sev and spicy- tangy sauces.
Recipe type:
Main, Snacking, Appetizer
Cuisine:
Indian street food
Ingredients
Cheerios plain 1 medium size bowl
Besan Sev 1 medium bowl (optional)
Chopped onion ½ cup
Chopped tomatoes ¾ cup
Chopped boiled potatoes ¾ cup
Chopped cilantro 1 tbsp
Pomegranate seed 1 tbsp
Beetroot shredded 1 tbsp
Masala peanuts 1 tbsp (optional)
Salt according to taste
Finely chopped green chili 1 medium spicy
Lime juice
Raw shredded mango 1 tbsp (optional)
Mint and cilantro chutney ~2 tbsp
Date and tamarind chutney ~ 3-4 tbsp
Instructions
Mix all the ingredients except chutneys.
Add chutneys according to your taste and serve it immediately.
Notes
-You can roast Cheerios just by adding little oil,salt and turmeric on the stove top if
you wish.
-Add ingredients according to your taste and availability.
-Avoid nuts if you are allergic to any.
-Prepare dry mix in advance if you wish or you are going for picnic so that you
should not carry all the stuff separately like cheerios, sev, peanuts.
-Serve it immediately after adding chutneys (sauces).
You can make cheerios nachos too by just adding guacamole into it.
Related:
Enjoy!
I am not endorsing any brand here.
Let me know what do you think about this recipe?
If you want to check this page in different language click on the top right corner where you see flag sign.
Compare nutrition facts of puffed rice (mamra) and cheerios.
Basmati Murmura
Cheerios

Nutrition Facts

Serving Size 45g

Servings Per Container 1

---

Amount Per Serving

Calories 150

Calories from Fat 0

% Daily Value*

Total Carbohydrate 35g

12%

---

*Percent Daily Values are based on a 2,000 calorie diet. Your daily values may be higher or lower depending on your calorie needs.

Nutrition Facts

Serving Size 1 cup

Servings Per Container 1

---

Amount Per Serving

Calories 100

Calories from Fat 18

% Daily Value*

Total Carbohydrate 20g

7%

---

*Percent Daily Values are based on a 2,000 calorie diet. Your daily values may be higher or lower depending on your calorie needs.

According to https://nuts.com/snacks/indian/basmati-murmura-puffed-rice.ht
From http://www.myfitnesspal.com/food/calories/general-mills-original-cheerios-112713696)
---