Tawa Paneer Asparagus / Indian style grilled paneer with asparagus curry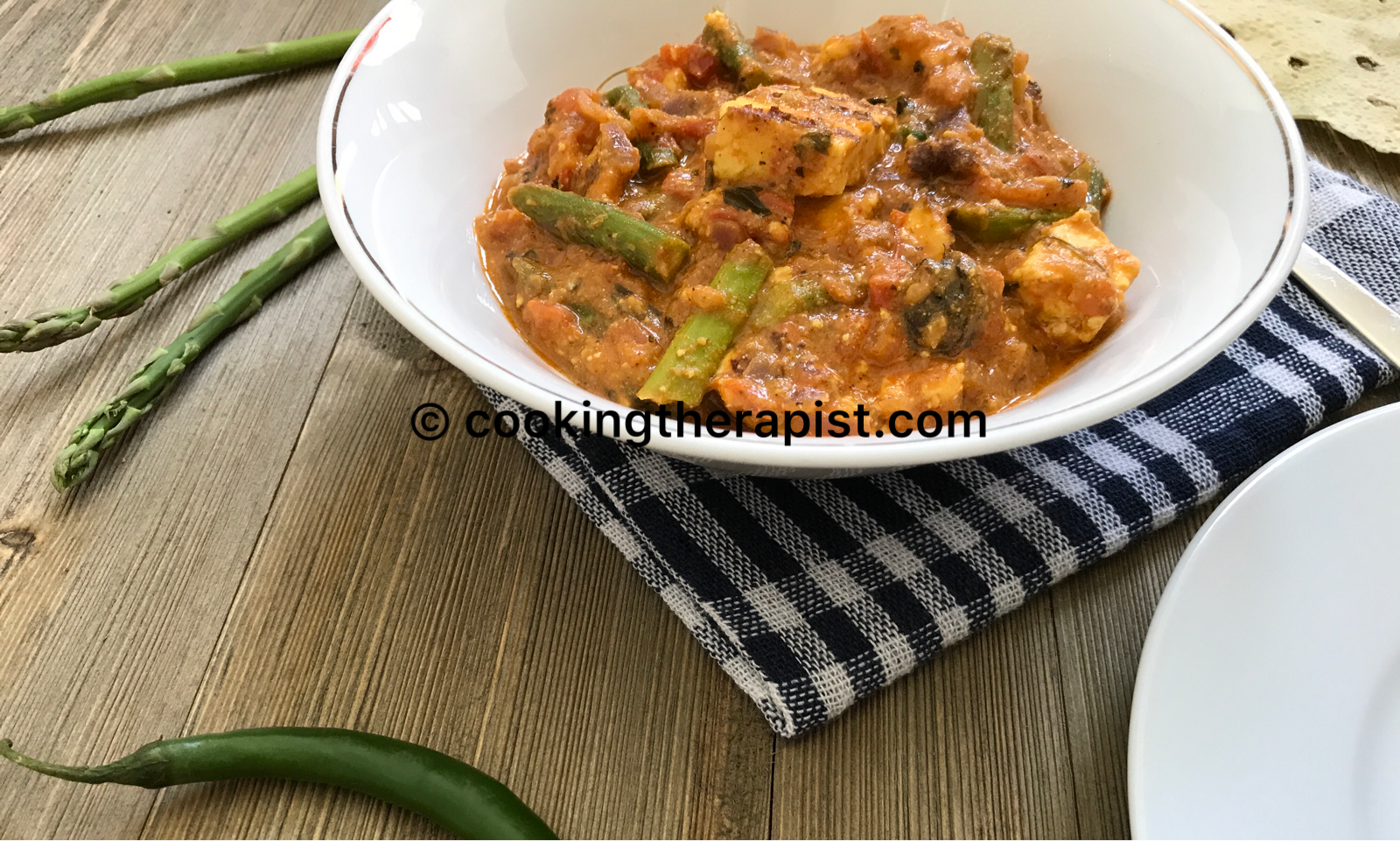 Asparagus is green crunchy and one of the very healthy vegetable, which is my daughter's favorite green. It is a nutrient-packed source of vitamins, minerals and essential proteins. But I feel that it is not much popular among most of the Indians. Paneer is everyone's favorite and the ingredient you always see in the restaurant menu.
I saw paneer and asparagus combination long back in menu of one Indian restaurants near me but did not get chance to taste their dish so thought of creating my own recipe – Tawa Paneer Asparagus. I love to try something distinct and interesting delicacies so here is my own creation for you all.
If you like asparagus then you can make it just by using asparagus only.
Hope you all will like it. Make it for yourself or for friends and family and they will be amaze with the flavors. Don't forget to check my other nutritious recipes.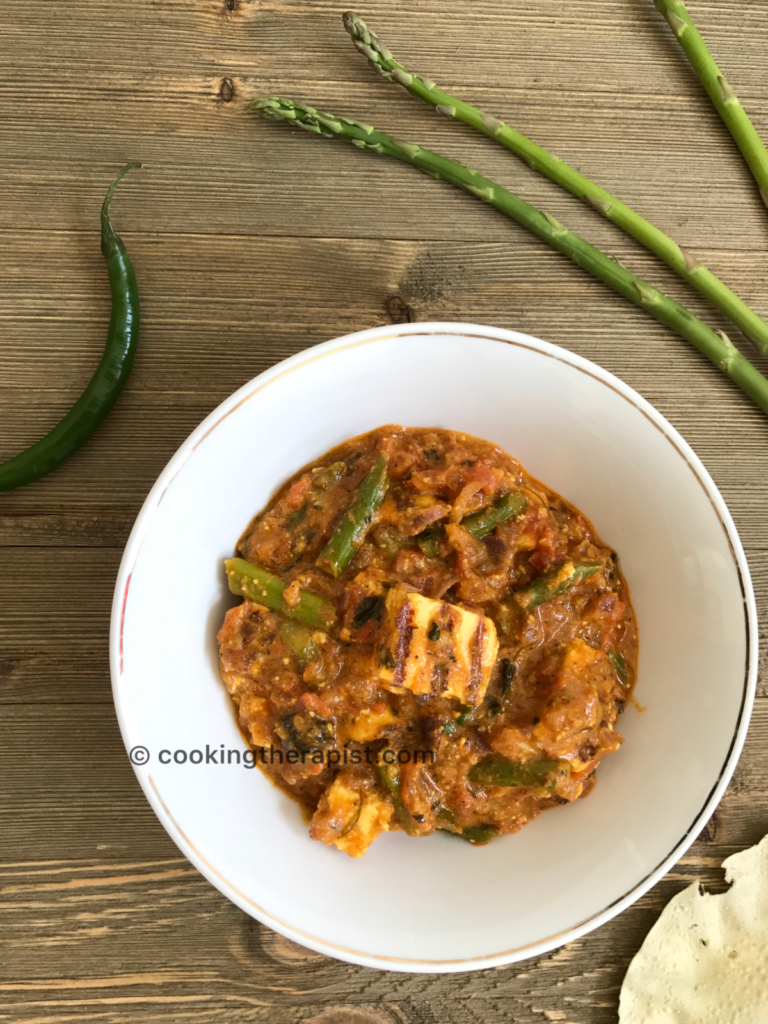 Tawa Paneer Asparagus
Ingredients
Paneer - 1½ cup diced (or any shape you fancy)
Asparagus - ½ cup, 1-2 inch cuts
Oil - 2 tsp
Ghee - 1 tsp
Black Cardamom - 1
Bay Leaf - 1
Onion - 1 cup finely chopped
Tomato - 2 cup finely chopped
Ginger Garlic paste - 1 tbsp (blend it fresh if you can)
Turmeric powder - 1 tsp
Chili powder - 1 tbsp
Coriander powder - 1 tbsp
Salt - according to taste
Kitchen king masala/ curry powder -2 tsp
Garam masala - 1 tsp
Dry fenugreek leaves (kasuri methi ) – 1 tsp
Yogurt - 1 tbsp (not much sour )
2 tsp roasted chickpea flour (besan / gram flour)
Marinade Ingredients:
1-2 cup Hung Curd or yogurt
1 tsp Red chili powder
½ tsp Turmeric powder
1 tsp Cumin Coriander powder
1 tbsp Ginger Garlic paste
1 tsp Dry Fenugreek Leaves (kasuri methi)
1 tsp Lemon Juice
Salt according to taste
1 tsp roasted Gram Flour (besan/ chickpea flour)
Instructions
Mix all the ingredients of marinade and add room temperature paneer cubes in to it. Let it rest for minimum of 30 minutes.
Take a pan and add ~2 tsp of oil in to it. Once the oil is hot add black cardamom and bay leaf in to it. Then add onions and roast it till golden brown then add ginger garlic paste and all spices except garam masala and dry fenugreek leaves then add tomatoes and left over marinade and add salt and roasted chickpea flour.
Meanwhile grill your marinated paneer and grill asparagus with little oil salt and black pepper till tender.
Add paneer and asparagus in to gravy or sauce we have made it earlier. Add water to desire consistency. Then crush dry fenugreek in to your palm and add it in to gravy. Finally add garam masala and let it simmer for 4-5 minutes.
Serve it hot with naan, roti, paratha, rice or with bread of your choice, noodles or pasta it is going to taste delicious.
Notes
- Make any adjustments according to your choices.
- Marination of paneer is optional if you have time then go for it but if you are running
out of time then skip that step, it will taste delicious too.
- Select medium thick and wrinkle free asparagus anytime you buy to avoid
chewiness.
It is going to be a favorite
paneer
dish of your family . Enjoy it with chapati, phulka, paratha, naan or rice. If you like noodles or pasta then you can enjoy it with them it will still taste delicious. Check some more of my
paneer
or main
course
recipes. Waiting for your feedback and comments.
Check what you will get from the Asparagus:
Asparagus is an excellent source of vitamin K, folate, copper, selenium, vitamin B1, vitamin B2, vitamin C, and vitamin E. It is a very good source of dietary fiber, manganese, phosphorus, vitamin B3, potassium, choline, vitamin A, zinc, iron, protein, vitamin B6, and pantothenic acid. Check here to know more about it.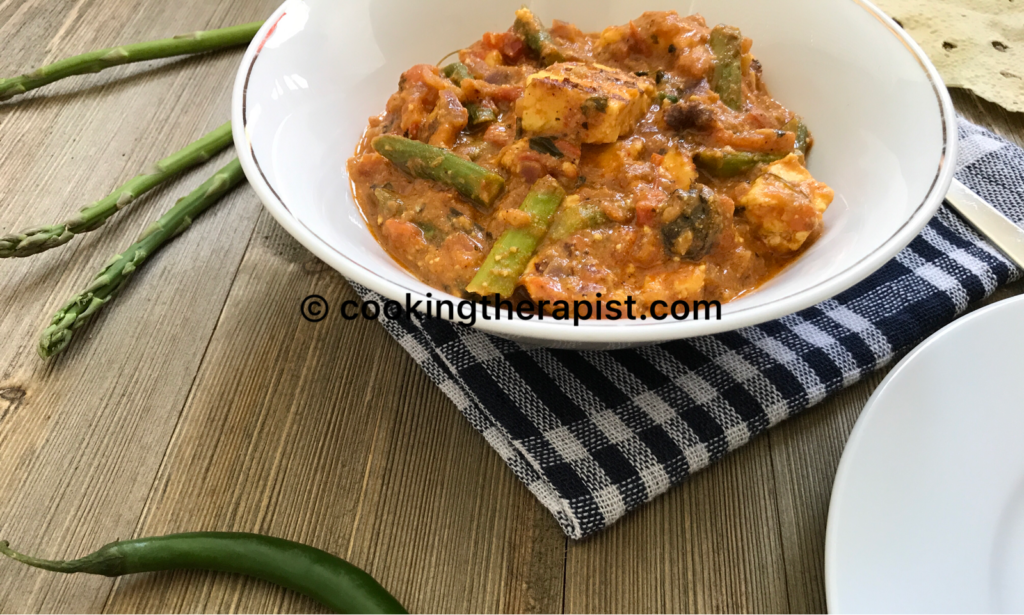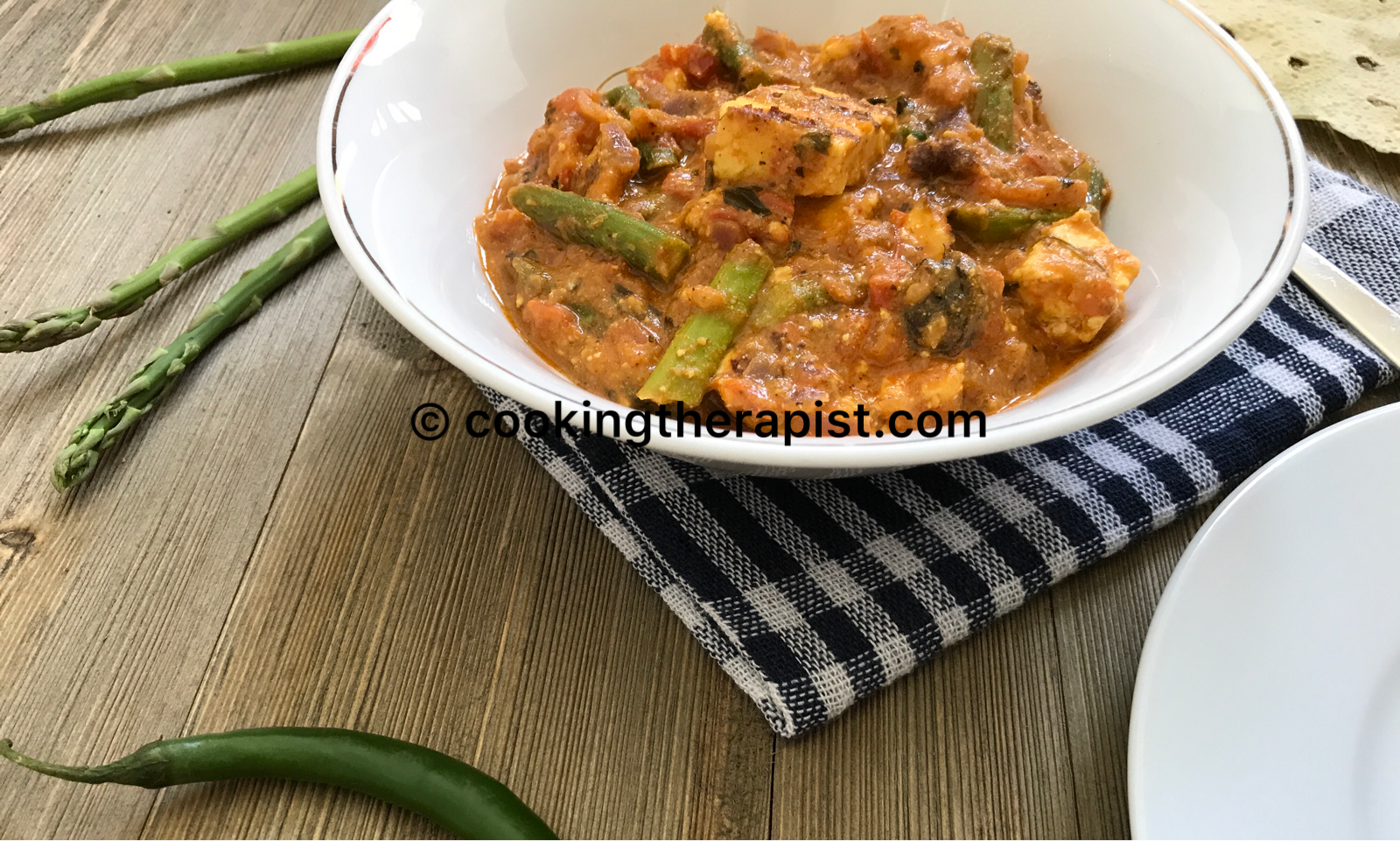 Check following picture for Quicker version of tawa paneer asparagus.
1. Main ingredients : paneer, asparagus, onions, tomato puree, chickpea flour (besan)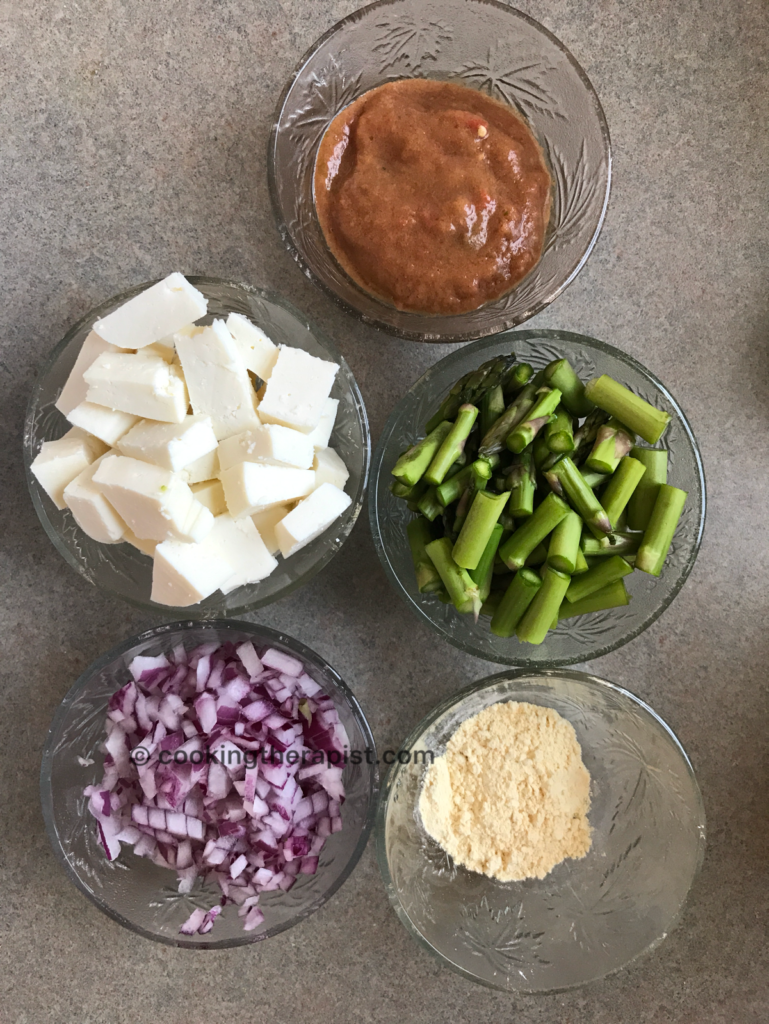 2. Add oil, once it is hot add cardemum, bayleaf, onions.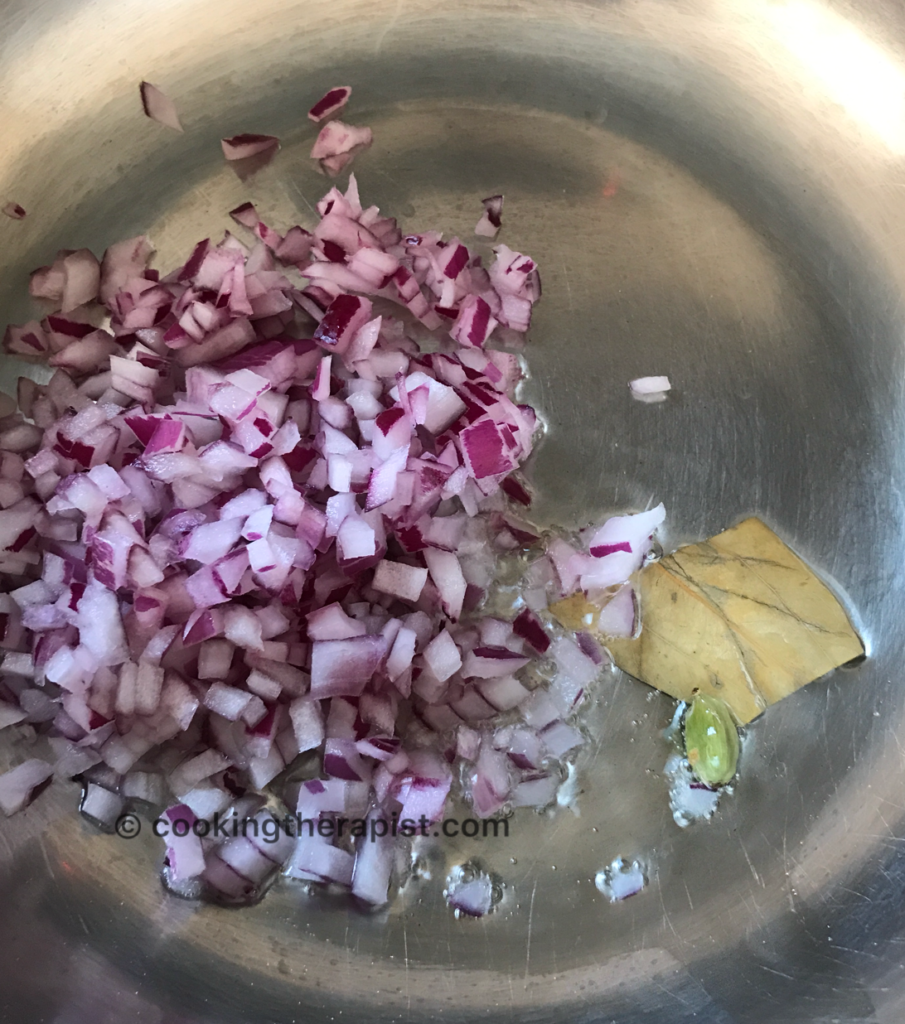 3. Add ginger garlic paste and then asparagus. Let it cook for 3-4 mins.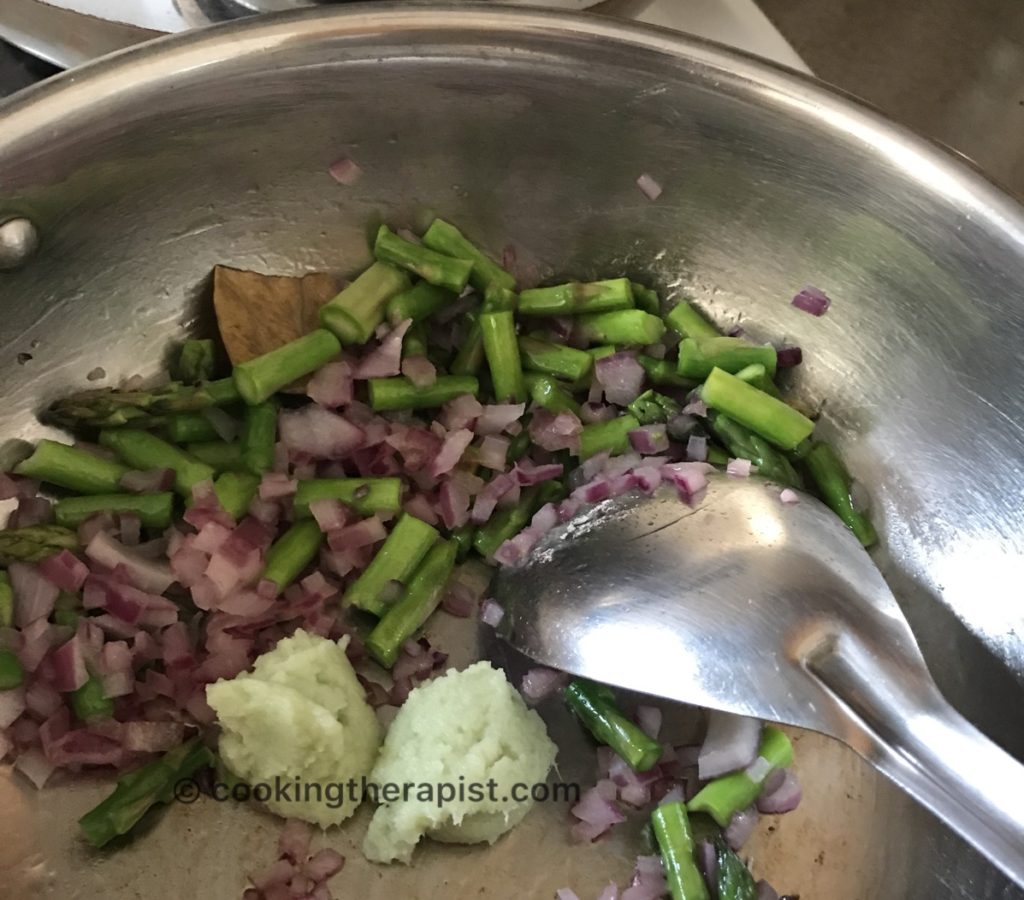 4. Add tomato paste, spices, kasuri methi (dried fenugreek leaves) mix it well and let it cook for another 2-3 mins.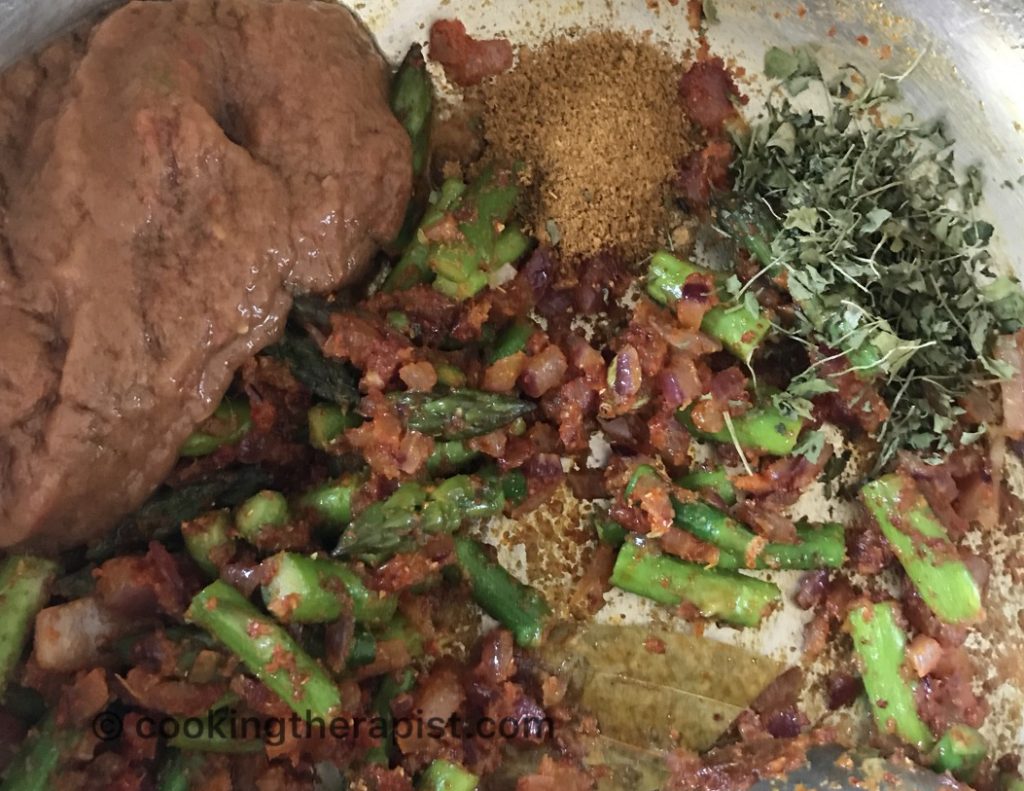 5. Add paneer and mix everything well. Add some water and let it simmer. Finally a teaspoon of honey and garam masala. mix it properly and ready to serve.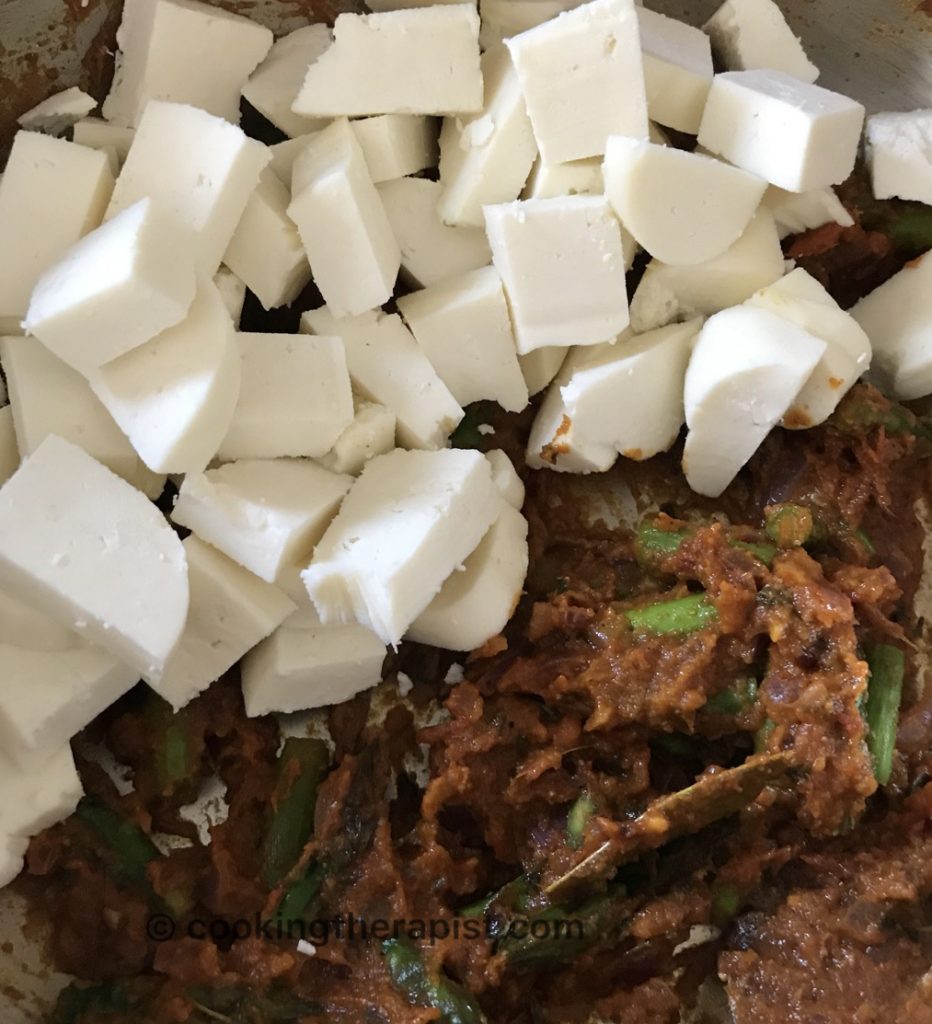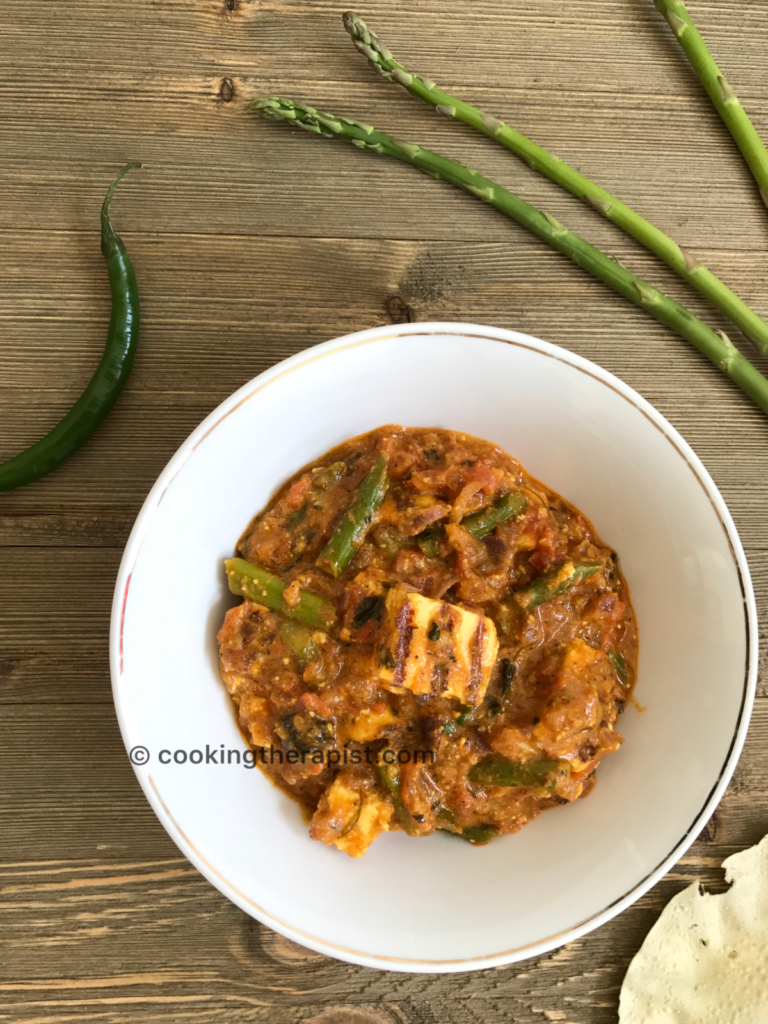 Which is your Favorite paneer dish?let me know. Feel free to ask if you have any query.
Check it out some of my innovative curry recipe here. 
Follow us on FACEBOOK for our latest updates. For more recipes click here.
---