Fasting rice bowl / Diabetic friendly rice bowl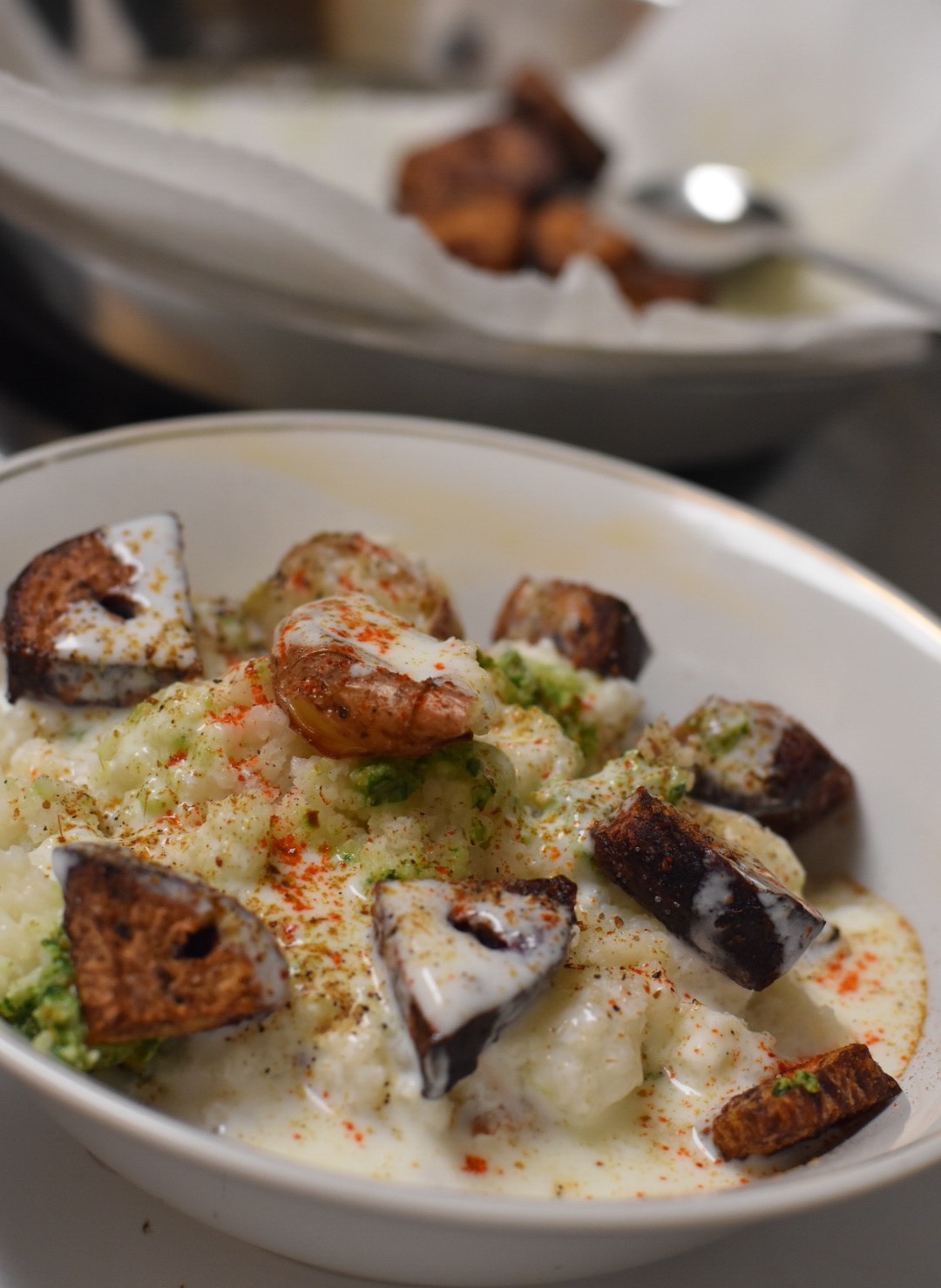 It is said and scientifically proven that fasting makes the mind calm and serene. I would say that it is a kinda discipline to control our mind. One should not do fasting for weight loss purpose. Check here more about fasting.
Fasting rice bowl is a bowl which contains cooked samo rice, root vegetable, cilantro chutney and yogurt with sprinkle of some spices. Just like a chaat (Indian street food) combination – soft rice, crunch of vegetable and tangy.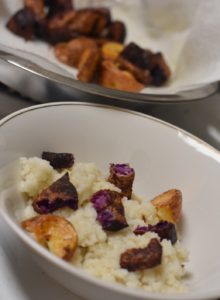 Fasting rice is having lots of different name like barnyard millet, samo rice, bhagar, vrat ke chawal or moraiyo. This rice is gluten free and easy to digest, least in calorie, recommended for diabetic mellitus patient and lot more check here.
Fasting is a great way to incorporate gluten free food and more fruits than regular days which will help our body to do detox.
Do fast or not but make this bowl of yumminess and let me know your views.
Enjoy!!
Fasting rice bowl / Vrat ke chawal / Chaat style moriyo
Cooked fasting rice (samo rice / moriyo) topped up with crunch of root vegetable, cilantro chutney and yogurt with sprinkle of red chilli powder and jeera (cumin seed) powder.
Author:
Cooking Therapist
Ingredients
1 cup Samo rice (moraiyo, bhagar)
Salt to taste (use sendha namak / rock salt if you are doing fast)
1 teaspoon cumin seed
2 medium hot green chilli ( if you prefer red chilli then add red )
6-8 fresh curry leaves
5-6 black peppercorn (whole black pepper which is optional)
1 cup cilantro with few stems
8-10 peanuts
lime juice (1 tsp or as per taste )
1 cup yogurt whisked
1 cup purple yam peeled and chopped
1 medium Potato /plantain (raw banana)
Instructions
First of all wash samo rice properly then soak it into water for 10-15 mins. ( 1 cup of samo rice needs almost 2 cups of water) Meanwhile boil yam and potato with skin in the pressure cooker. Don't put yam into the water, steam it along with potato or use yam of your choice like raw banana, sweet potato or taro root (arvi).
Now for making samo, heat a pot or pressure cooker then add oil and jeera. Let jeera crackle then add curry leaves and one green chili chopped. Finally add samo rice along with soaked water, peanut, whole black pepper and salt to tase. Mix it well and cook it till it absorbs all the water and let it rest for 5 mins or pressure cook it for one whistle and open it after 2 mins.
Preheat oven for 375* F/ 180*C Once your yam is ready after steaming little tender then coat it with fasting oil like peanut, canola or sesame seed. Add some salt and crushed black pepper and mix it well. Bake it for ~ 20 mins or until little crispy from outside.
Side by side make cilantro (coriander) chutney, for that you need chopped cilantro pre washed, peanuts, lime juice, salt and green chili. Put all the ingredient in the mixer jar and grind it to a coarse paste.
Now it is a time to assemble bowl so add cooked samo rice first into the bowl then baked roots (yam, potato), with a tablespoon of chutney and whisked yogurt with sprinkle of roasted jeera powder, red chili powder and little bit of salt.
Serve it immediately.
Notes
Make root vegetable according your choice like make it in a dry sabji style or let them crisp on the pan for stovetop option or you can fry that too. Do it according to convenience.

Add root vegetable of your choice.

Adjust seasoning and consistency according to your palate.
Related:
Mocha milk cake / chocolate kalakand
---