Cherry pistachio shrikhand / Cherry pistachio flavored hung curd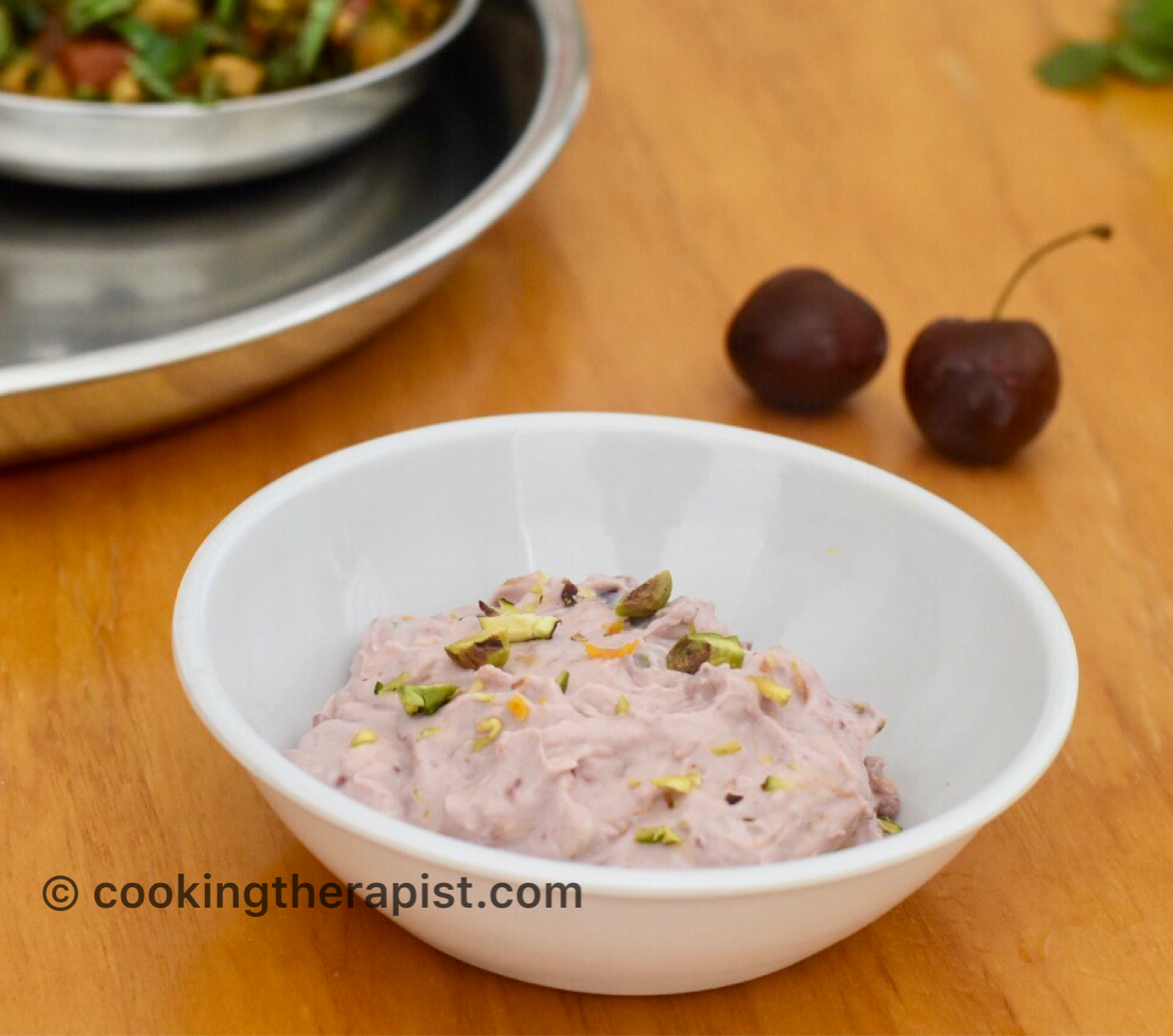 Shrikhand is an Indian dessert dish made of hung curd. It is usually eaten by people of Gujrat and Maharashtra region of India. It is a feast people make during festival time or wedding. Traditionally it is flavored with saffron, cardamom or nuts like almond and pistachio or with mangoes in summer.
Cherry pistachio shrikhand is my twist to traditional sweet dish. This innovation is inspired by our favorite amaretto cherry cordial ice cream of private selection brand. I have made this shrikhand by hanging a yogurt in a maslin(cheese) cloth for almost 24 hrs in the freeze and then I have added powder sugar, flavors and a through whisk and a secret ingredient. Hint of orange zest was hero of the dish.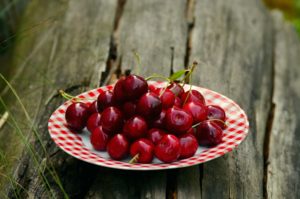 Cherries, who doesn't know about this sweet and dark red super fruit. But most people are not aware of its tons of health benefits. It has unique set of antioxidants and it is packed with lots of minerals – the trick is that you have to consume it in moderation because of its fructose contains. If you want to know more about is then check here.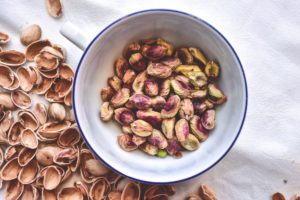 Pistachios are supreme when it come to weight loss, lowering bad cholesterol or improving your eye health and much much more, check how.
Shrikhand is usually served along with Puri which is fried indian bread but I have saved those calories for this yummy goodness. 🙂 You can spread this shmear on top of the multigrain/whole wheat bagels. In any your tongue will ask for more. 😉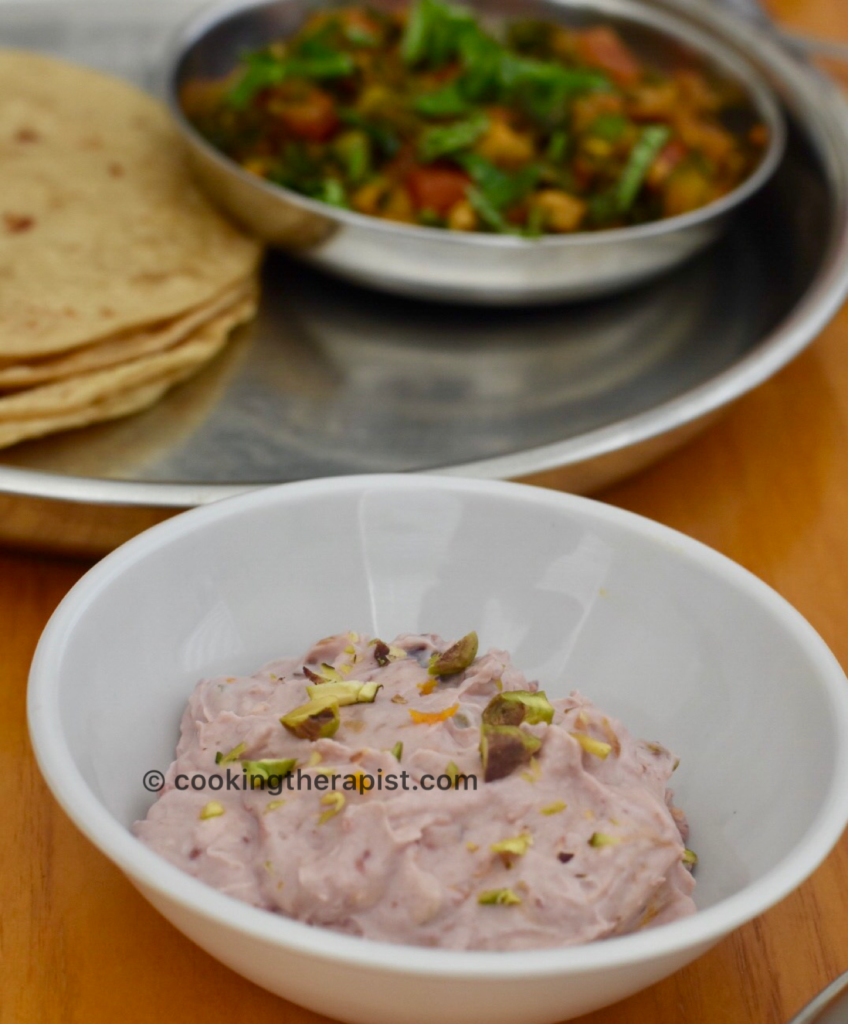 Cherry pistachio shrikhand / Cherry pistachio flavored hung curd
Mixture of hung curd and sugar flavored with cherry, pistachio and orange zest.
Author:
Cooking Therapist
Ingredients
1 cup = 250 ml here
3 Cups plain full fat yogurt / greek yogurt
¼ cup powder sugar ( according to taste)
½ cup crushed cherry compote / cherry jam / canned cherry
handful of chopped pistachio
1 teaspoon of fresh orange zest
Instructions
Put yogurt in a maslin(cheese) cloth hang it over a large bowl in the fridge. Let excess whey(water) strain for ~18-20 hours. If you are in hurry use greek yogurt.
Transfer strain yogurt to a large mixing bowl and gently stir in sugar, mix it very well and prepare a lump free mixture.
Once the base is ready add cherry compote / jam, freshly grated orange zest and chopped pistachio. Stir it very well.
Transfer it to air tight container and store it in the fridge.
Garnish it with some more pistachio.
Serve it cold with puri or roti.
Notes
Do not use much sour yogurt and hang it in the fridge.

Whisk it thoroughly.

You can add flavor of your choice in the base mixture of yogurt and sugar.

You can add saffron and cardamom for traditional flavor or you can add fruits of your choice too.

You can apply this as a shmear(spread) on multigrain/whole wheat bagel too.
This recipe requires little bit of pre planning rather it is easy and quick too make. Once you will make fresh by your own you will never buy it from the store. And the advantage is sugar control is in your hand. 🙂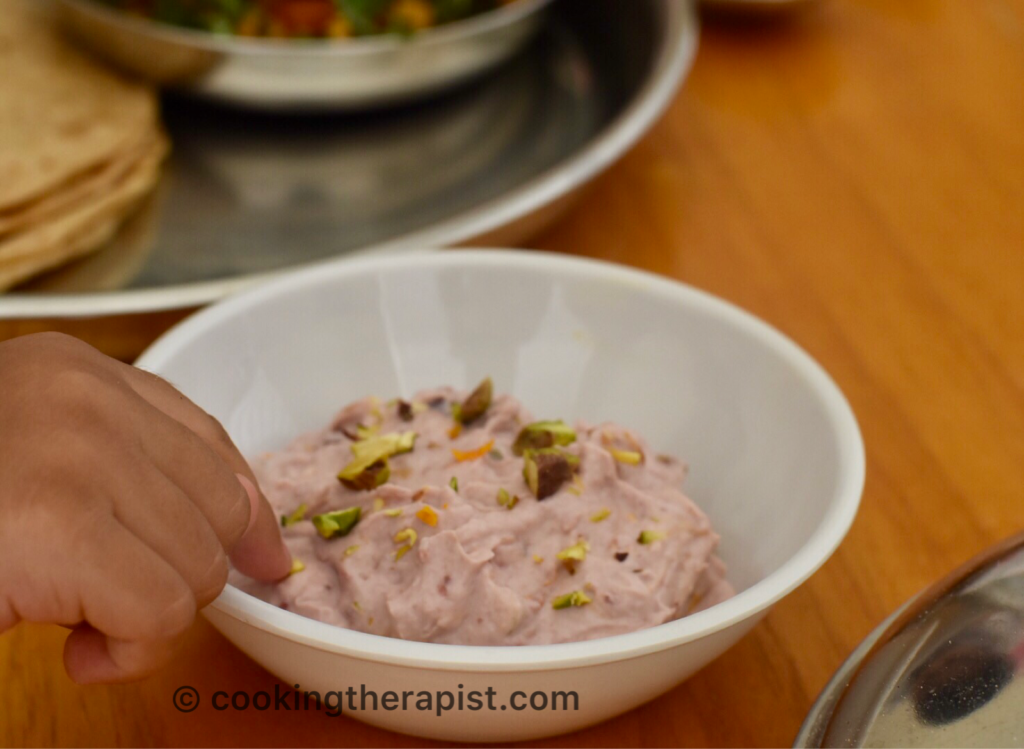 Most difficult part of all is to take a picture, finger of my 2 yrs daughter. Excuse me for it but backend picture for you all.
Related:
Mocha milk cake / Chocolate kalakand
Love and do not forget to burn some more calories after having it. 😉
What do you think? comment below.
---