Tandoori Mushroom sandwich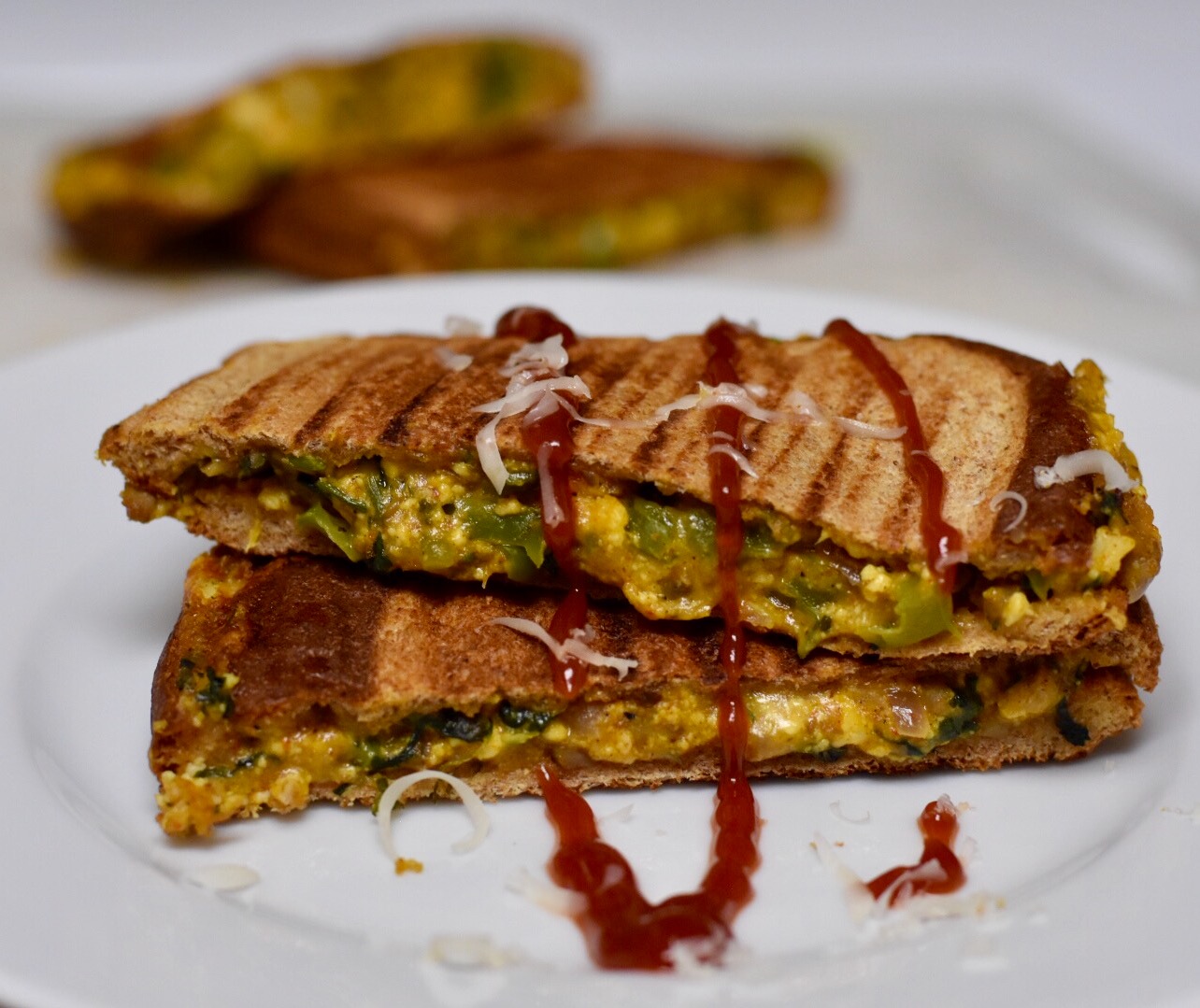 Who do not like sandwiches? That is everyone's favorite. Tandoori mushroom sandwich is a quick and easy sandwich which is crunchy and soft in texture with burst of tandoori flavors.
In India we use to make grilled sandwich with potato and peas stuffing which contains high carbs because of the potatoes. I have made comparatively healthy version by using mushroom in the recipe. Mushrooms are great source of vitamin D and calcium and lot more. It is a great way to feed mushroom to your kid or to the one who do not like it.
This recipe is derived from Tikka style stuffed mushroom and from the leftover stuffing of the mushroom I have used in making sandwich and it turned out awesome. After that I am making Tandoori mushroom sandwiches only. 🙂 You can use this stuffing to make stuffed mushroom which is a great way to eat low carbs.
I am sure that you are definately gonna love this. Do try it and let me know how it turns out for you.
Enjoy!!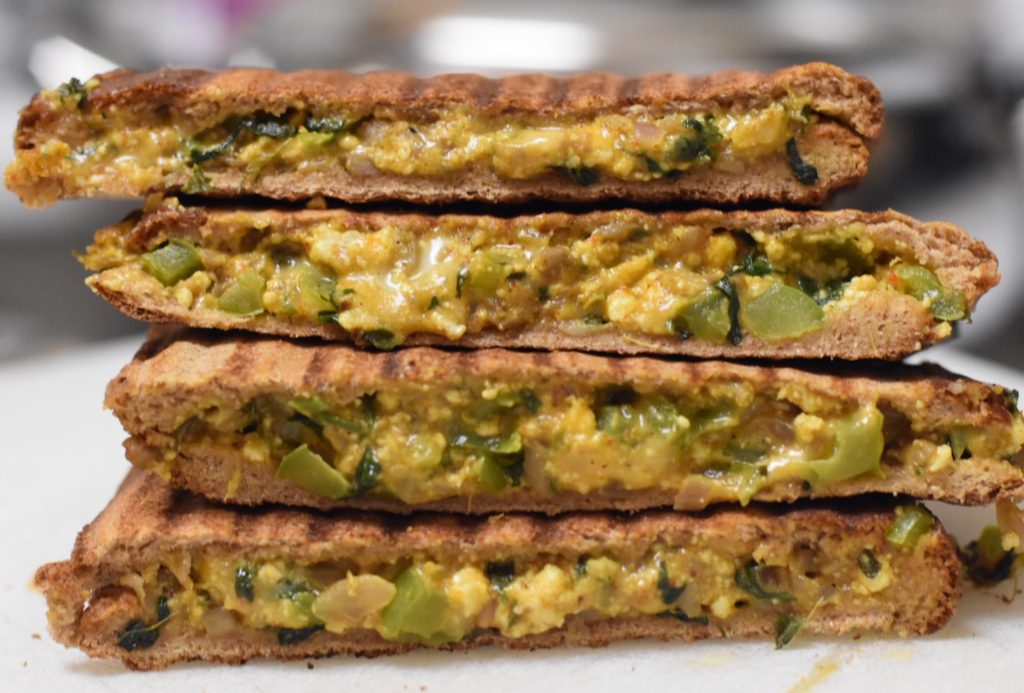 Tandoori Mushroom sandwich
Sandwich which is stuffed with mushroom and bell pepper sauteed and seasoned with leftover tikka marinated.
Author:
Cooking Therapist
Recipe type:
Breakfast, Snacking, Dinner,
Ingredients
~8 whole wheat bread
1-2 tsp oil
4-5 finely chopped Mushroom or Mushroom stems
½ medium sized green bell pepper finely chopped
½ cup finely chopped onions
½ or ¼ cup crumbled paneer or fresh bread crumb (for binding)
1 tbsp of yogurt
½ tbsp roasted gram flour (chickpea flour or besan)
1 tsp ginger garlic paste
¼ tsp turmeric powder
½ tsp red chili powder (as per taste)
½ tsp cumin and coriander powder
¼ tsp dried mango powder (aamchoor powder)
¼ tsp garam masala
salt (as per taste)
1 tsp cilantro (optional)
1 tbsp freshly grated low fat mozzarella cheese (optional)
Instructions
For marinade:Add 1 tbsp of yogurt and ½ tbsp of gram flour to the bowl and whisk it well. Then add All the spices like turmeric, red chili powder, cumin and coriander powder, dried mango powder and garam masala. Finally add ginger garlic paste and salt and mix it thoroughly.
Heat oil in the pan then add finely chopped onions. Saute it for few seconds and add green bell pepper and mushroom,
Now it is time to add marinade to sauteed vegetables, fresh bread crumbs or crumbled paneer and mix all well.
When mixture cools down then add finely chopped cilantro and shredded mozzarella cheese to the mixture.
Take a slice of bread and then apply stuffing on the bread. Put another slice of bread on top and close the sandwich and grill it in the panini maker.
Repeat this process and make another sandwiches.
Serve it warm with tomato ketchup.
Notes
Check label before buying bread, it has to be 100% whole wheat if you see enriched wheat flour that means they have used all purpose flour/maida in it.

For saving time make stuffing in advance and keep it in the refrigerator for 1-2 days.

For dairy free version use fresh bread crumb for binding and skip yogurt.

For Gluten free version make it with gluten free bread.

For vegan version use breadcrumb instead of paneer, skip cheese and replace dairy yogurt with vegan yogurt(coconut yogurt or soy yogurt).

If you want to make it with less ingredients then use tandoori masala or curry powder instead of adding all dried spices.

After grilling it in panini maker keep it on the cooling rack so that it won't be soggy.

Use bread of your choice.

Use this stuffing to make tandoori mushroom quesadilla.
Related :
Thanks to Ruchi Bharani… This recipe is inspired by her stuffed mushroom recipe.
---