Indian style stirfried zucchini / Zucchini sabji / Zucchini curry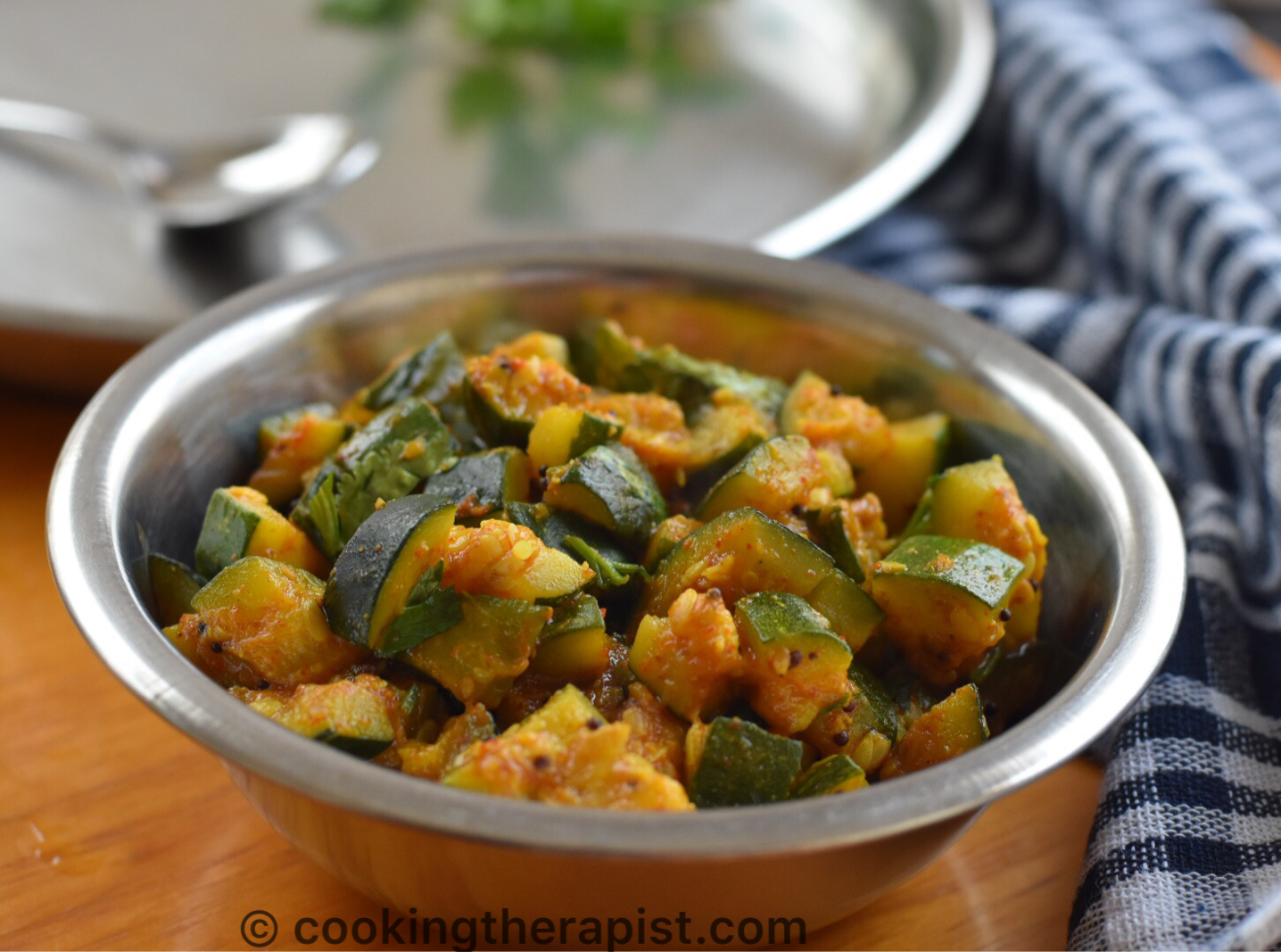 Planning before sleeping at night that which sabji(curry) to make for next day's lunch? I have a solution for that – easy, quick, super healthy and again with a new vegetable recipe. Indian style stir fried zucchini is the best way to use zucchini into everyday menu of Indian kitchen.
Zucchini(courgette) looks like it belongs to the family of cucumber, bottle gourd(dudhi) or silk gourd(galka). This green and medium thin vegetable (according to culinary context) is a bunch of benefits, which is well known to reduce weight, yet still boosting the nutrient value of your diet. Great for maintaining eye, heart and overall good health. Check for more about zucchini and its health values here.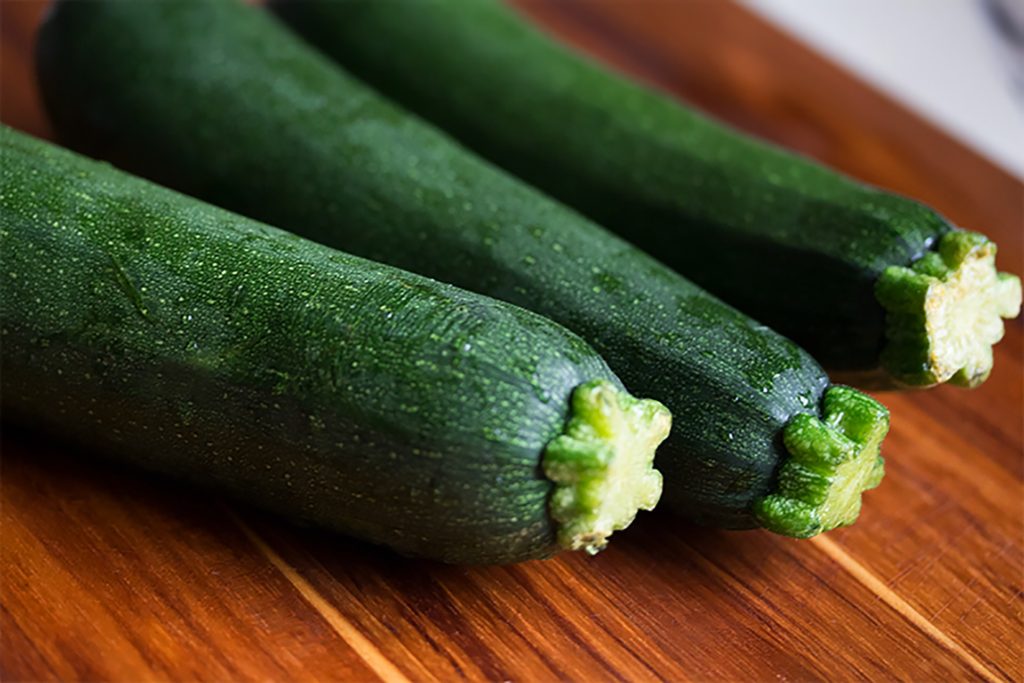 If you are a weight watcher than you might have heard about zoodles(zucchini noodles). Nowadays veggie noodles are hot trend to avoid gluten to your diet. Zucchini is not much used in indian kitchen and curries are Indians everyday need, hence thought of making zucchini sabji(curry).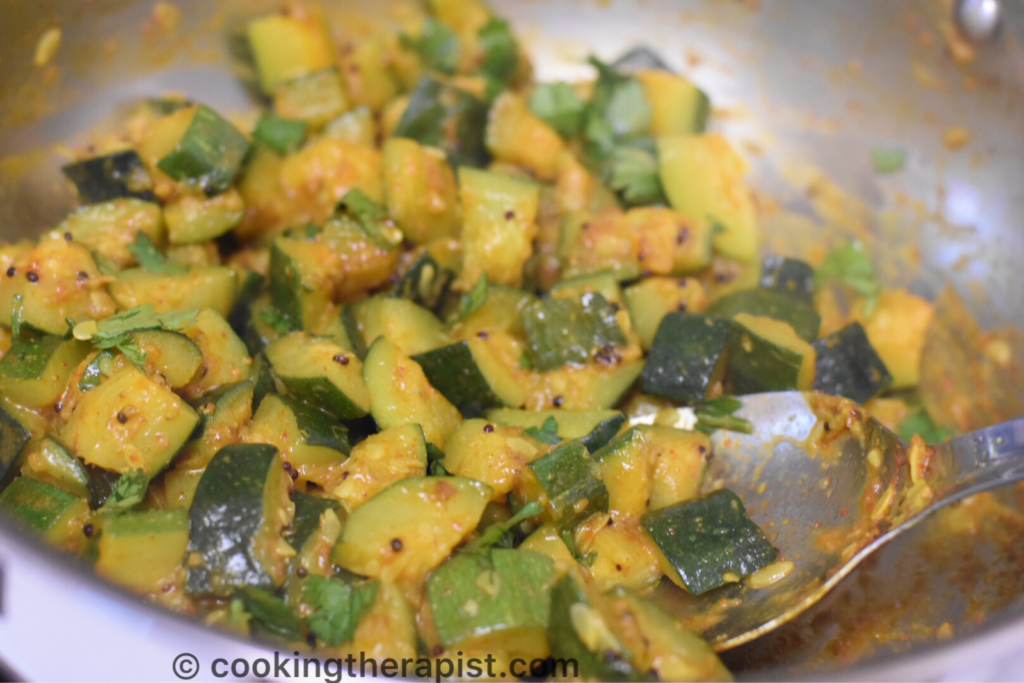 Now you have one more vegetable for making your lunch interesting. Serve it with roti or rice and enjoy this dish of extremely low calories.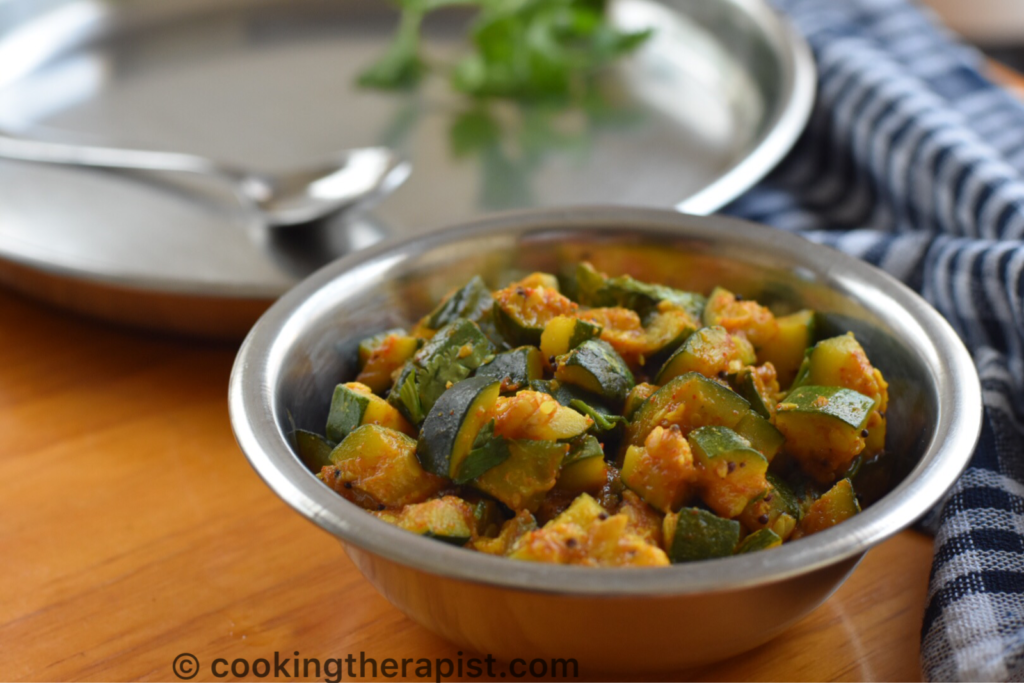 Happy healthy eating! 
I would love to hear your feedback. Check more quick and easy healthy, low calorie and almost zero oil Indian traditional recipes.
Don't forget to like us on FACEBOOK for latest updates. 
Indian style Zucchini stirfried
Very easy and quick zucchini curry flavored with indian spices for everyday meal.
Author:
Cooking Therapist
Ingredients
Zucchini - 3 medium size diced into cubes.
Oil - ½ teaspoon
Mustard seed - ½ teaspoon
Asafoetida (Hing) - ¼ teaspoon
Garlic - 2 finely chopped
Turmeric - ½ teaspoon
Red chili powder - 1 teaspoon (according to taste)
Cumin coriander powder - 1 teaspoon
Salt to taste
Garam masala - ½ teaspoon (optional)
Crushed roasted peanuts (optional)
Instructions
Wash zucchinis properly and chop it into cubes.
Heat the pan and add an oil into it. once the oil is medium hot add mustard seeds and let it crackle.(Be careful here it might splutter so cover it with the lid if needed)
Add asafoetida, turmeric, diced zucchinis and salt to taste. Mix it well.
Cover the pan with lid and let it cook on the slow flame till it is little bit tender. (if needed then sprinkle some water)
When it is almost done add remaining spices like red chili powder, cumin coriander powder and roasted crushed peanuts into it. Stir it nicely and let it cook for 2-3 mins. (Check for the tenderness you prefer it would not take long to cook)
Finally add garam masala and serve it with Chapati (Roti), pack it in the lunchbox or make it for sides.
Notes
Peanuts are optional if you have it on hand then add it rather than its fine.

Skip it if you are allergic to nuts.
How to buy,store and cook zucchini:
Always buy fresh, young, slick, smooth and bright colored zucchini.
Store for maximum of three days in a freeze with a plastic wrap.
Check before cooking it, some of them might be bitter in the taste.
Zucchini contains 95% of water hence no need to add water while cooking, cook it on low flame and add salt just after adding zucchinis.
Related:
Gorgeous green curry/ Veggie palak
---