Indian style Brussels Sprouts Curry / Baby cabbage curry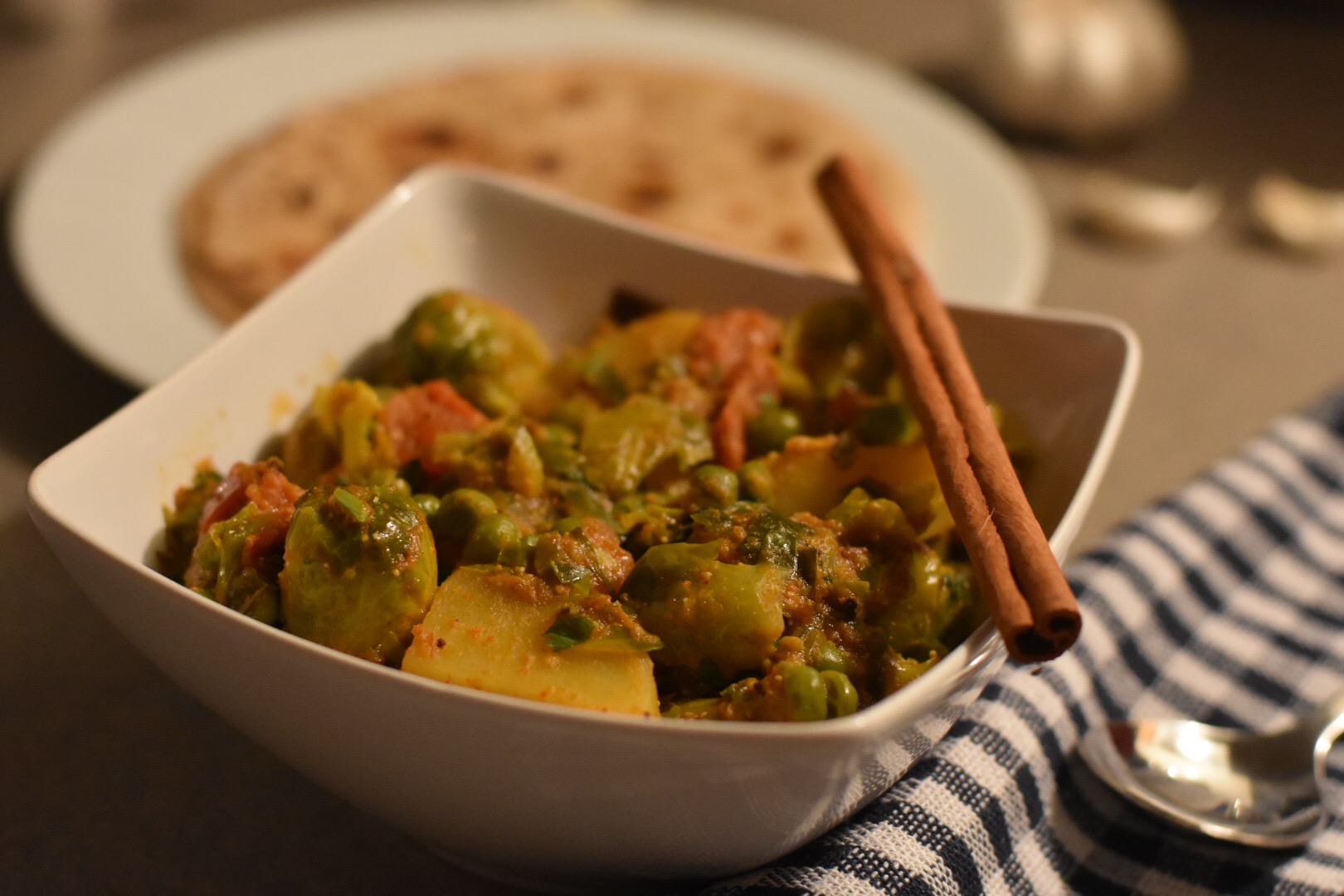 When you go to the grocery store and see a tiny little cabbages which is known as brussel sprouts. It is a member of the cabbage family and having nutritional benefits somewhat like a broccoli and which has long been popular in Brussels, Belgium and gained his name.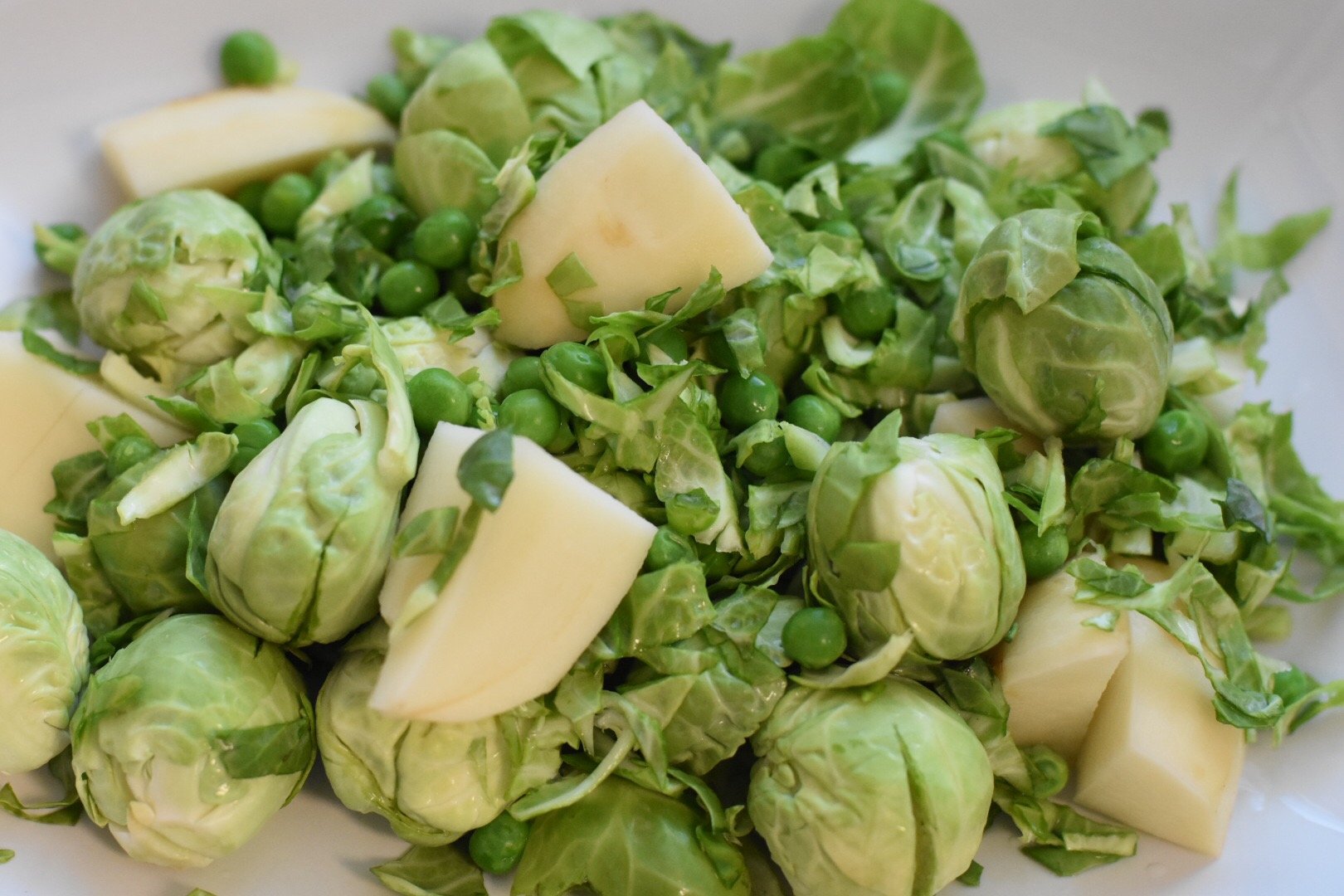 Indian style brussel sprouts curry is made by the way my mom or I would say my mommy's mommy used to make baby cabbage curry.  This brussel sprout curry is having strong garlic flavor so if you like little bit of heat and garlicky flavor then you are gonna make this dish again and again.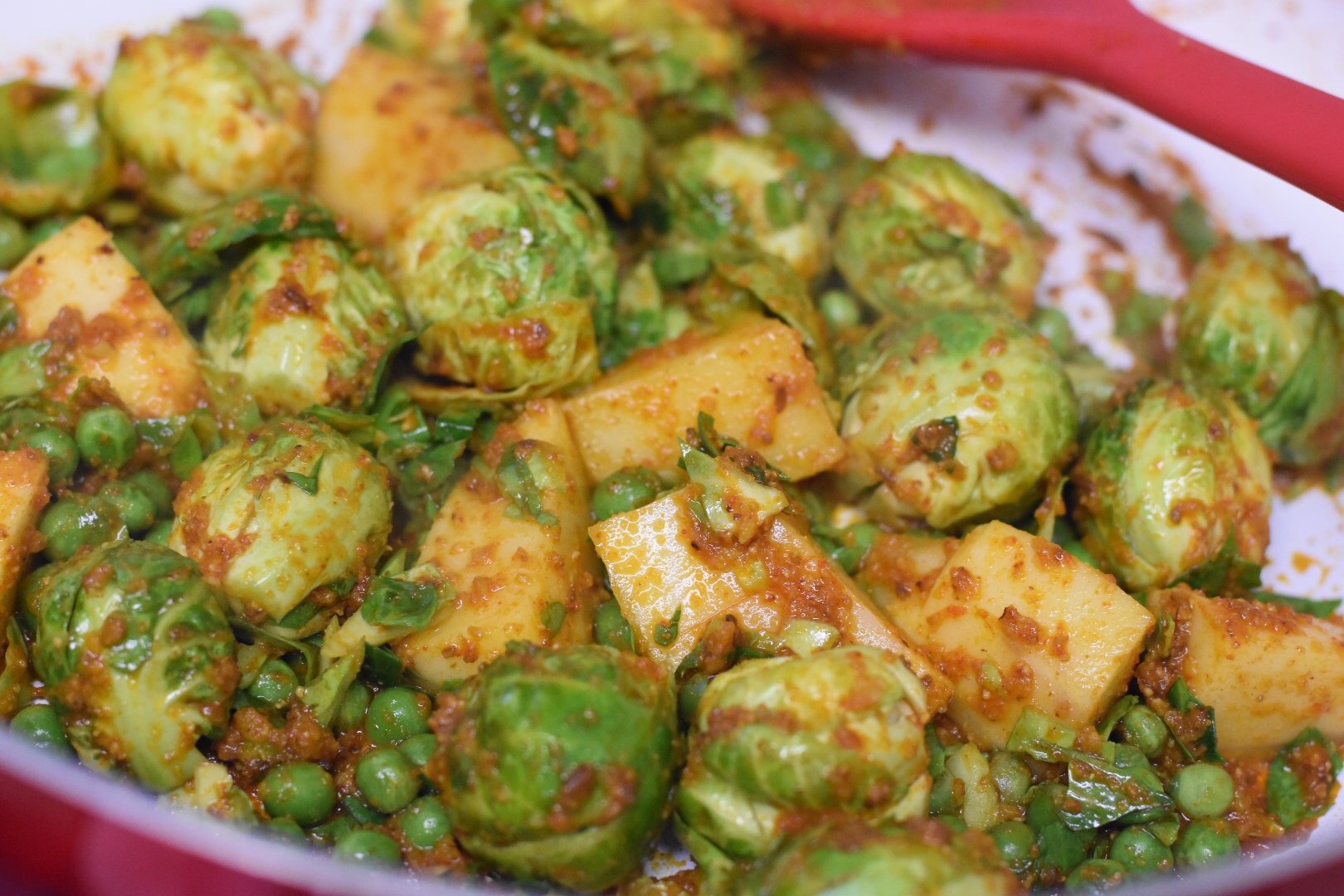 It is best suitable for winter or rainy season. If you are not a fan of curries then use the marination as mentioned in the recipe, slit brussels into half and roast it into the oven or stove top.
This baby cabbage curry will make your wintery cold eves cozy. Serve it hot from pan to plate and I know that you will get more brussels when you go next to buy your groceries. Don't forget to check my Indian style Zucchini stir fried which is got the highest views till now.
And of course special thanks to mommy for inspiration behind this recipe.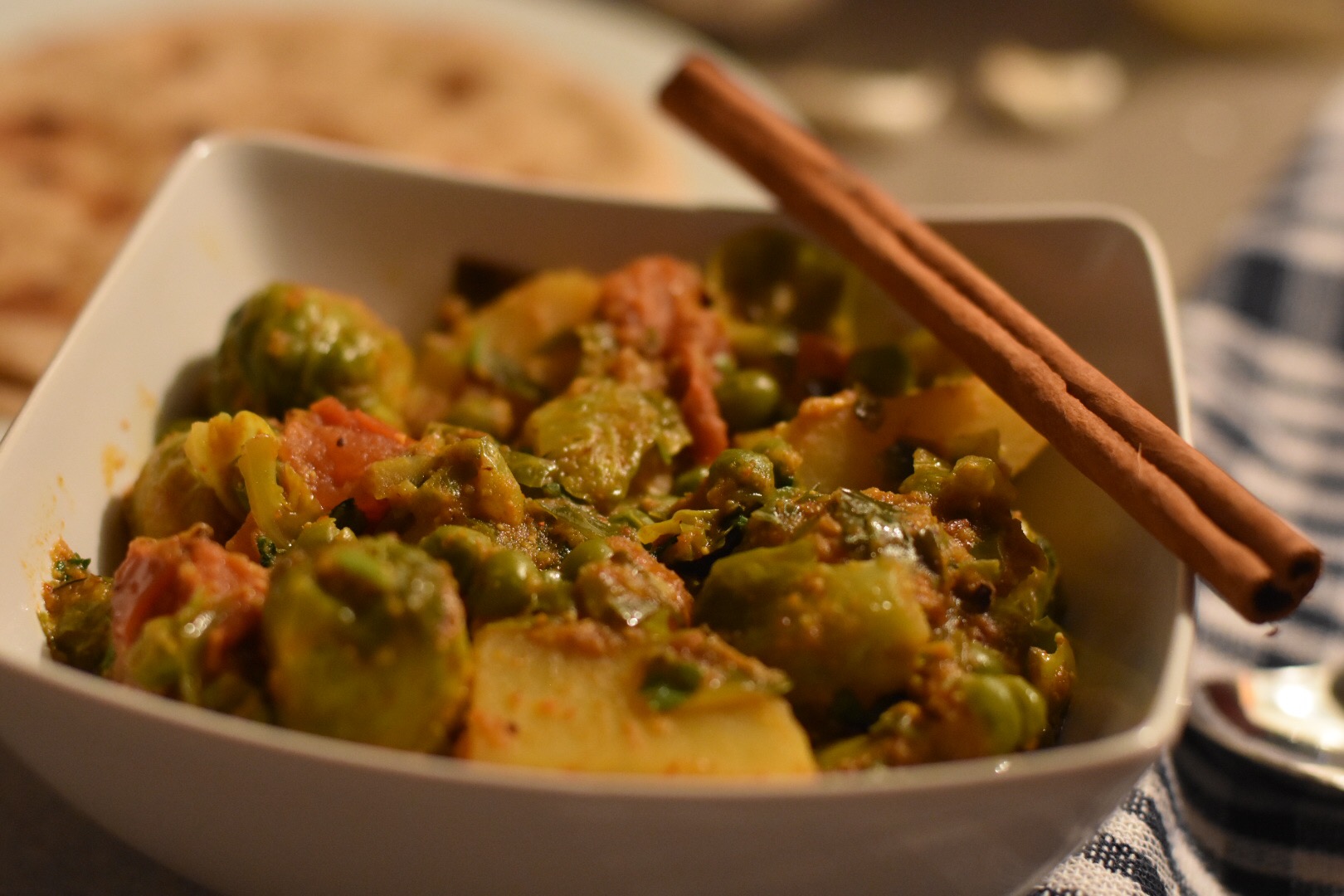 Indian style Brussels Sprouts Curry / Baby cabbage curry
Garlicky flavor Indian style brussel sprout curry.
Ingredients
Brussel sprouts ~10
Potato 8-9 big chunk size chopped (according to the size of the brussel)
Peas ¼ cup
Tomato ½ cup medium size chopped
Garlic 8-10 big pods
Poppy seed 1 tsp
Cinnamon 1 inch or ¼ tsp powder
Oil 2 tbsp
Salt to taste
Turmeric powder ½ tsp
Cumin coriander powder 1 tsp
Red chili powder 1 + Kashmiri red chili powder ½ to 1 tsp
Cilantro 1 tbsp finely chopped
Instructions
Wash brussel sprout thoroughly. Cut the stem and slit it till the half way. If some of the leaves are coming out then collect all the leaves and chop them like a fine julienne (slice). Along with them wash and peeled potato and chop it into big chunks.
To make stuffing or paste, in the mixer jar add peeled garlic, chili powder, cinnamon, poppy seeds and salt. Grind it into the paste.
If you have time then you can stuff brussel sprout with this mixture or you can just take masala mixture and coat (marinade) brussel sprout and potato very nicely for 2-4 mins.
Heat the pressure cooker on medium heat or you can use instant pot instead. Add oil into it. Now it's time to add marinated brussels, potato and peas. Saute it well in the oil. Add cumin coriander powder and turmeric and mix all well. If it is sticking to the pan you can add lil bit of water to it.
Finally add chopped tomatoes adjust water consistency like you can add ¼ to ½ cup of water. Check for the seasoning here. Cover the lid of the pressure cooker and hear 1 whistle and after 2-4 mins open the pressure cooker.
Garnish it with cilantro and serve it with roti (chapati) or paratha with a glass of buttermilk (chaas).
Notes
You can cook it in a pan with a lid cover.

Don't overcook brussels though it will not taste good if overcooked.

Stuffing brussel sprouts is optional.
Don't forget to check much more recipes @ www.cookingtherapist.com  

in your

language

.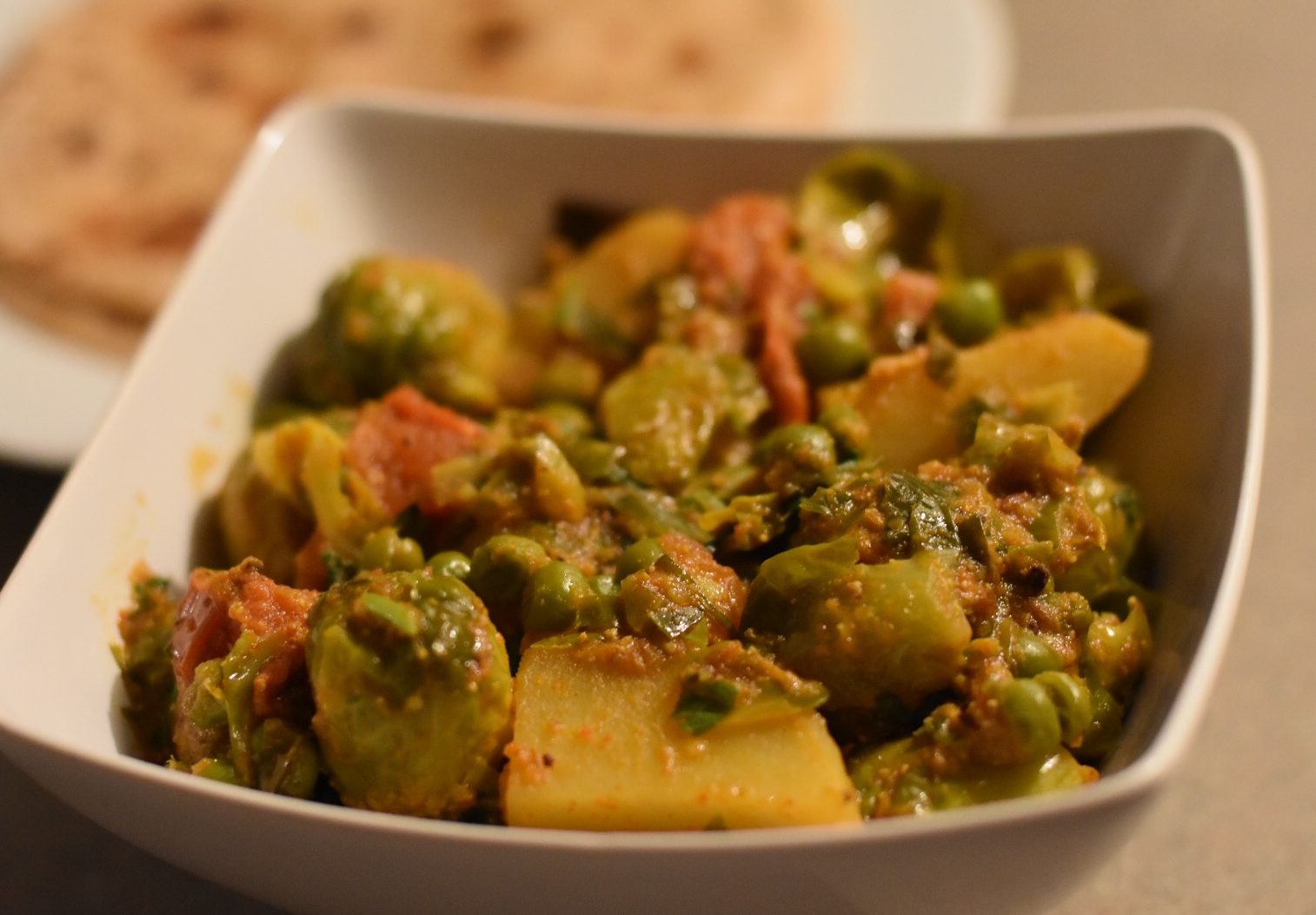 Don't forget to follow us on Facebook for latest updates.
---