Eggless Pumpkin and chocolate chip muffin / fall flavor muffin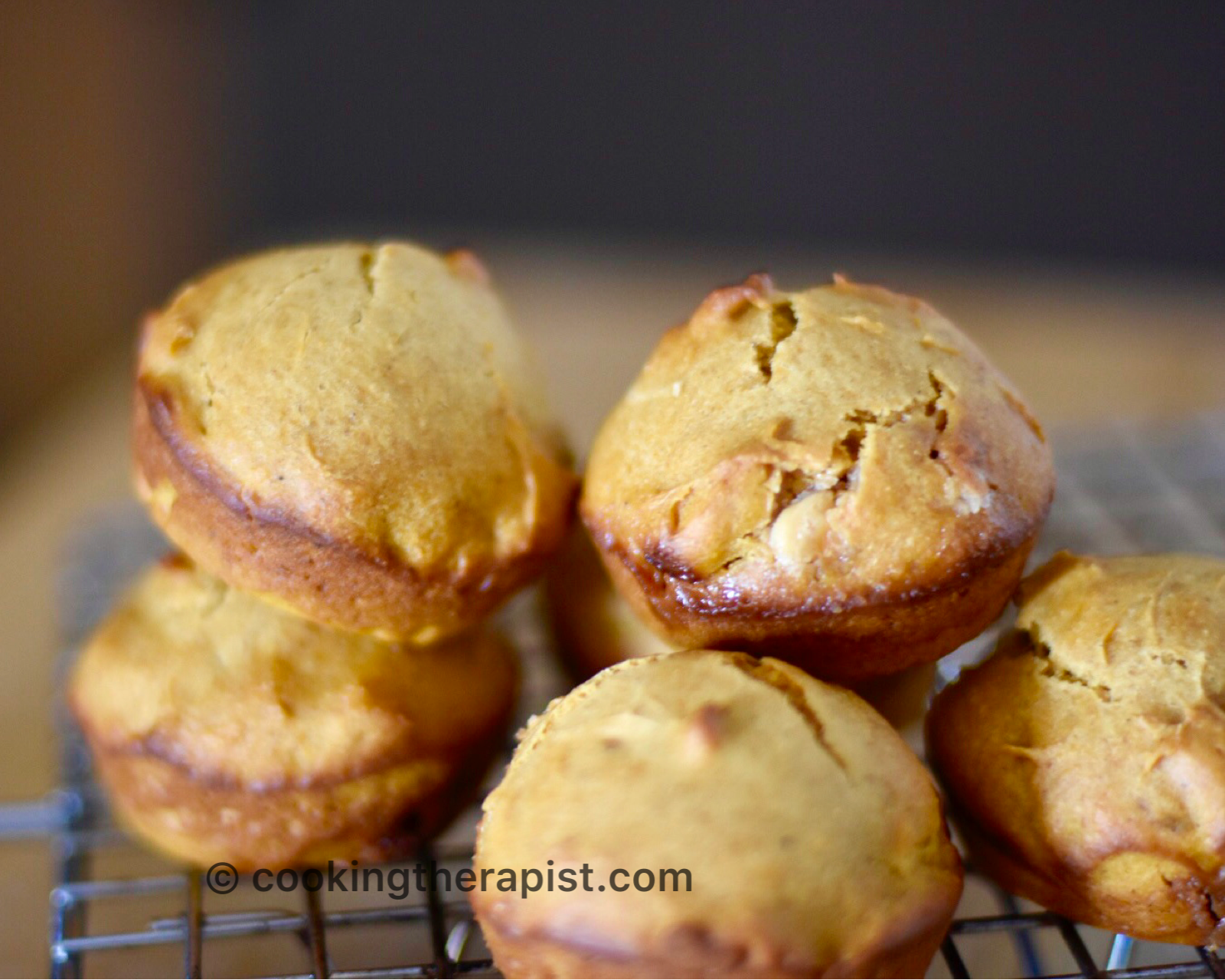 Fall is all about indulging pumpkin delicacies, don't you think so?? We just need reasons of festivals for making pie, pancakes or waffles right? For last year's christmas party I have made bite size eggless pumpkin pies and all the friends still reminds me about that little cuties.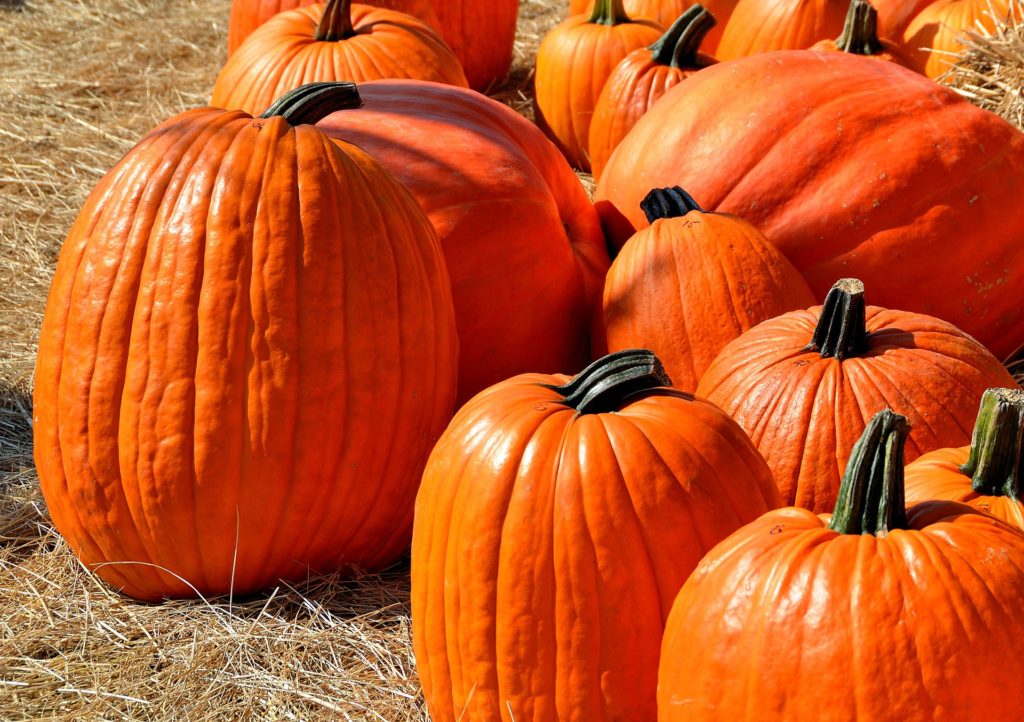 Eggless pumpkin and chocolate chip muffins are best way to feed pumpkin to your kids.  Don't forget to check it's nutrition here. According to me it is less work and waiting period then making pie and when we talk about calories than this muffins wins with it's rival pumpkin pie. I have used almost whole wheat flour, pumpkin puree, condensed milk, white chocolate chips and pumpkin pie spice which will make you feel like having pumpkin pie.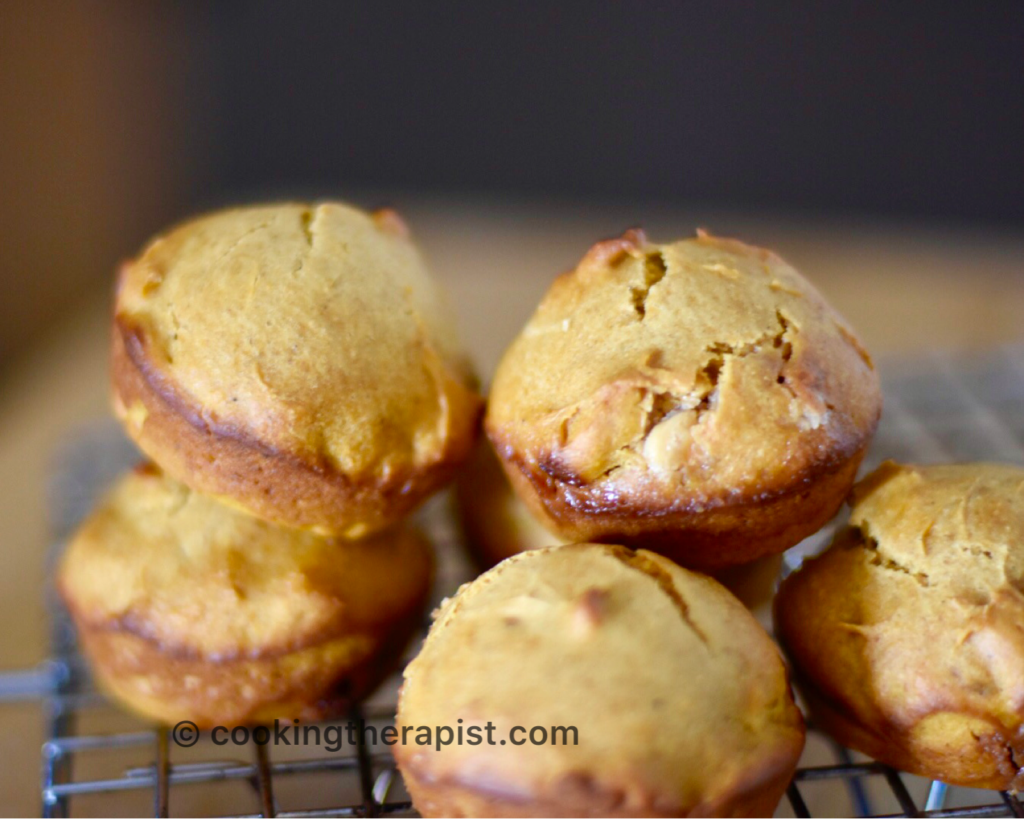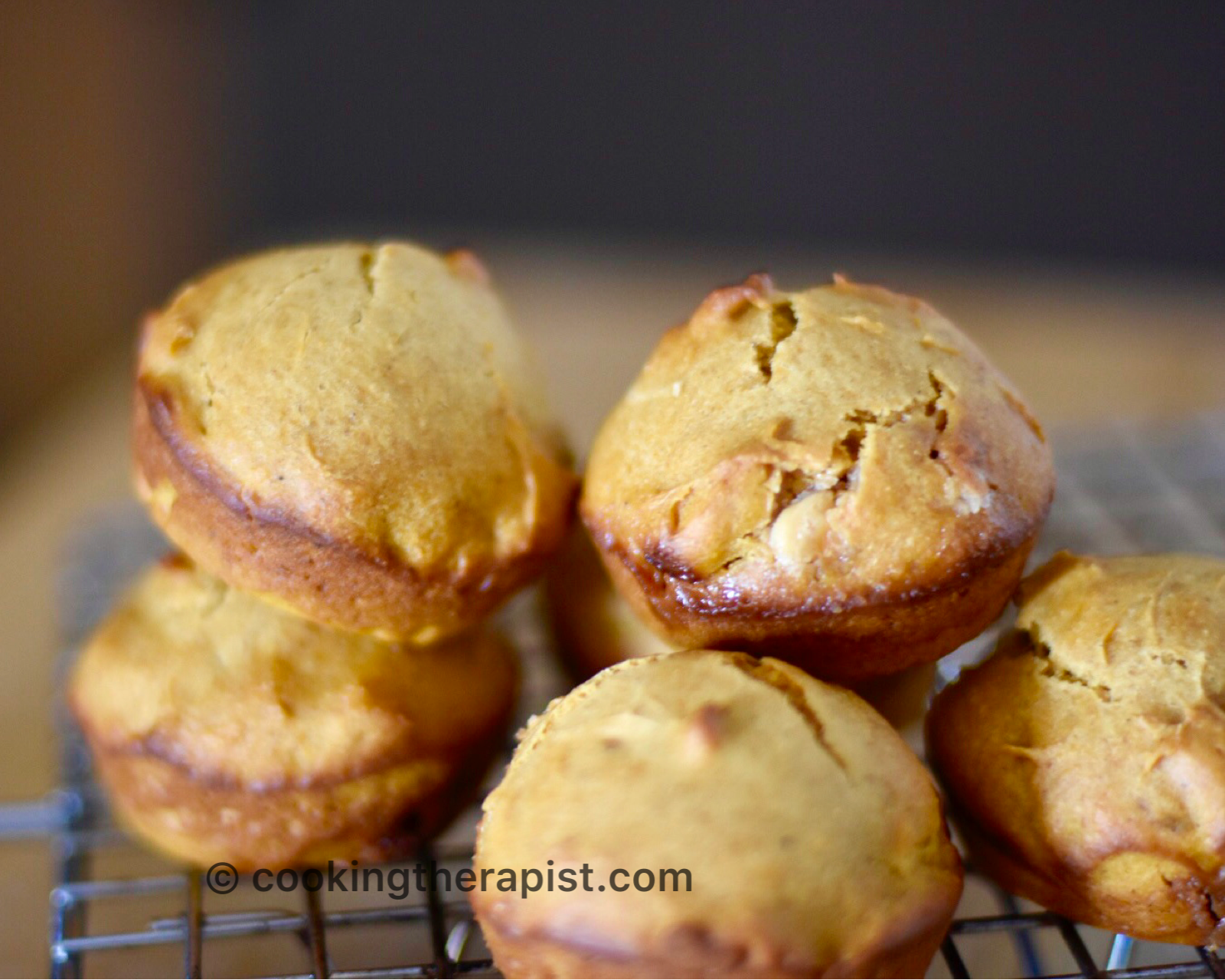 Make it ahead for on the go breakfast.
Eggless Pumpkin and chocolate chip muffin / fall flavor muffin
Eggless pumpkin and chocolate chip muffin with pumpkin pie spices.
Author:
Cooking Therapist
Ingredients
Dry Ingredients :
Whole wheat flour ¾ cup
All purpose flour (maida) ¼ cup
Corn starch 1 tbsp (for cupcake or more moist and soft texture)
Salt just a pinch
Baking powder ~1 tsp
Baking soda ¼ tsp
Pumpkin pie spice 1 tsp
Chocolate chips (white or use available one) Handful
Wet Ingredients:
Oil 1tbsp
Butter ½ tbsp (melted or room temperature)
Pumpkin puree (canned or fresh) ~1/2 cup
Condensed milk almost ½ cup ( change it according to sweetness preference)
Vanilla Extract 1 tsp
Milk 1-2 tbsp (if required)
Instructions
Sift all dry ingredients together except chocolate chips.
Take another bowl add oil and butter and whisk them together.
Add remaining wet ingredients and mix it thoroughly.
Preheat oven at 375 *F.
Add all the dry ingredient to the wet mixture in batches and fold them gently.
Mixture has to be bit thick then dropping consistency.
Grease muffin or mini cupcake pan with cooking spray/ oil / butter.
Use ice cream scoop and divide mixture equally in a pan.
Tap muffin pan once or twice and bake them into the preheated oven at 375*F for approximately 20 mins or till you see the cracks on muffins.
Don't forget to check them with the toothpick, if it is coming out clean that means it's done.
Take it out and wait for a minute or two then cool it on the cooling rack.
Serve it warm or at room temperature.
Notes
Once it is cool completely then store it in a airtight container for 3-4 days.
Enjoy it warm or room temperature.
Make it in a mini cupcake pan for parties or potluck purpose and to make them more interesting garnish it with the whipping cream. (Using ready whip cream for garnish will save your time.)
If you want to know how to make
pumpkin pie spice then check here.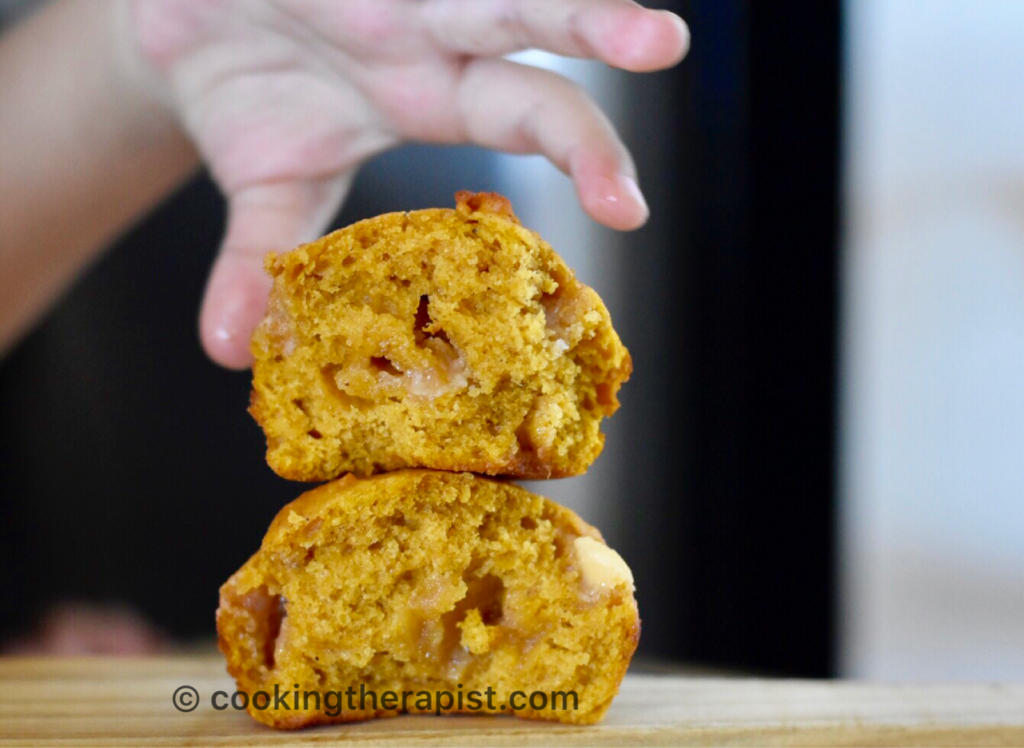 This is my daughter's favorite and I am hoping that it will be favorite for your kids and family. For parties and potluck make it in a mini cupcake pan and add whipped cream on top with sprinkle of pumpkin spice.
Even if you are eating pie too then I can say that I will not say a word because of the benefits of the orange goodness. But as always have it in small portion or moderation with exercise is the best way.
Don't forget to check Caffein free pumpkin spice hot chocolate.
Follow us on Facebook for latest updates.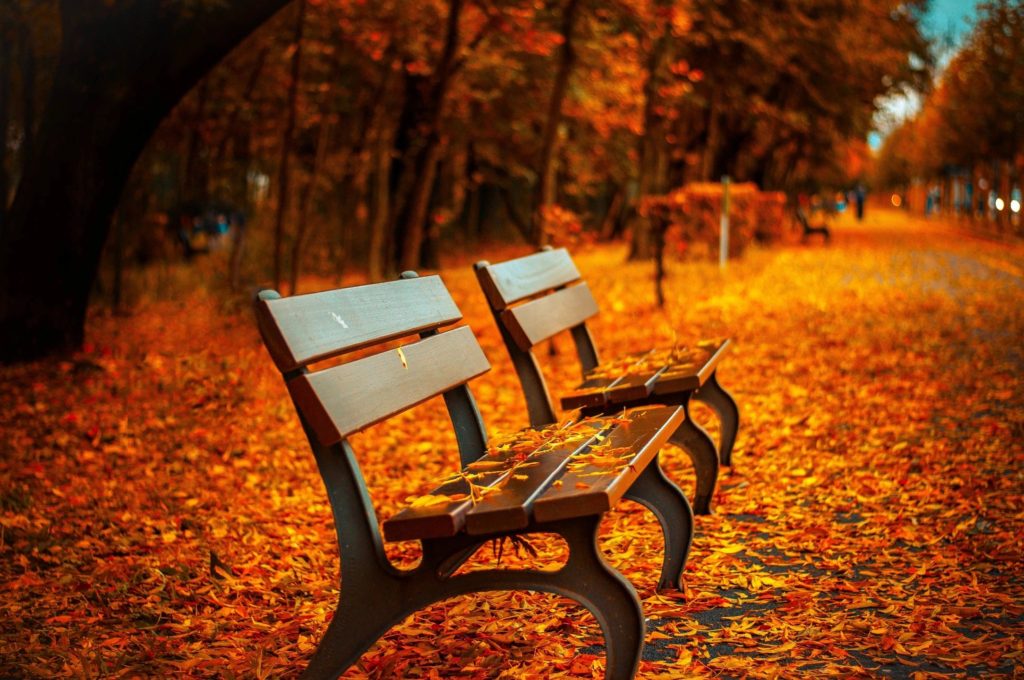 Let us know which is your fall favorite flavor ??
---